What Does #ParkAnywhere Mean?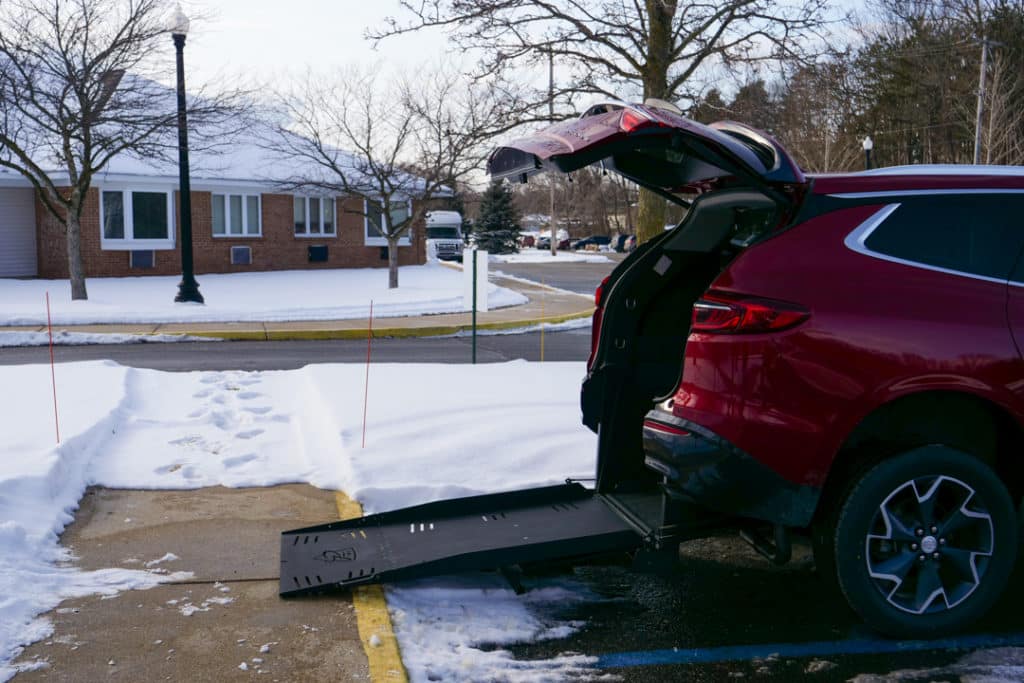 The feeling of freedom and independence that comes with owning your own wheelchair accessible vehicle is priceless.That being said, they do come with some obstacles that non-converted vehicles won't face.
One of the biggest challenges that comes with driving an accessible vehicle is parking it. On a traditional side-entry conversion, the ramp or lift will deploy from the driver or passenger side of the vehicle. This means that the vehicle requires several feet of clear space on that side in order to access the vehicle in a wheelchair.
Designated disability parking spaces are designed with this in mind, and usually offer several feet of space on either side that are marked to be kept clear for this purpose. Of course, this means a side-entry vehicle is limited to parking in one of these spaces or somewhere further away from the destination where there is ample space on either side of the vehicle. Both of these options can be tough to come by in a crowded parking lot on a busy day.
#ParkAnywhere With a Freedom Motors USA Rear-Entry Conversion
These issues and many others are what led Freedom Motors USA to pioneer the use of rear-entry conversions. Rear-entry ramps are more versatile and easy-to-use because of their design.
On rear-entry models, the ramp deploys from the back hatch of the vehicle, allowing wheelchair users to be secured in the third row behind other passengers, or in the second-row behind the driver and passenger seats.
---
Why This Family Chose Freedom Motors USA Rear Entry Minivan
---
Not only does this design mean that less modifications need to be made to the original vehicle, keeping it as close to OEM as possible, but it also makes it much easier for wheelchair users to access the vehicle.
Because the ramp deploys from the rear hatch, only the space behind the vehicle needs to be clear to deploy the ramp. Most parking spaces allow for this naturally, and you won't have to worry about other drivers knowing not to park alongside your vehicle.
The design comes with other advantages as well — the ramp can be lowered directly onto a curb, allowing wheelchair passengers to disembark directly over the curb and eliminating the need to find a curb ramp. This can be a huge timesaver when looking for a parking space, and lets you get to your destination quicker in cold, wet or snowy conditions.
About Freedom Motors USA Wheelchair Accessible Vehicles
Why buy your wheelchair accessible vehicle from Freedom Motors USA? It's simple. Freedom Motors is family-owned and has been creating accessible vehicle conversions since 1987, making us one of the first companies in the industry. We have experience getting our customers what they need.
Don't know where to start?

Our team of Mobility Specialists will work with you to help find the vehicle that best suits your needs.

Shop from Home –

Freedom Motors will come to you anywhere in the country

to provide a demonstration

of any of our wheelchair conversions.

Exclusive Stock –

Shop our expansive list of

Wheelchair Accessible SUVs

that you won't find anywhere else in the mobility industry, including the Buick Enclave, Chevrolet Traverse, Kia Sorento, Kia Soul, Kia Telluride and Honda HR-V.

Hybrid Vehicles –

Check out the industry's first

Toyota Sienna Hybrid Wheelchair Van

wheelchair-accessible conversion, with a no-charge hybrid drivetrain making it the most efficient wheelchair van on the market.

Premium Features –

Freedom Motors conversions offer top-of-the-line features, like the automatic rear-entry ramp or our full and half-cut options that allow for more passenger seating options.

Superwide Ramps –

Freedom Motors offers the widest ramps in the industry that you won't find anywhere else, including the

Superwide 40" Dodge Grand Caravan

and the

Superwide 48" Toyota Sienna

.

Dedicated to Keeping You Moving –

Contact us today

and we'll work with you to find the right vehicle for you.