3 Options for Wheelchair Users Who Drive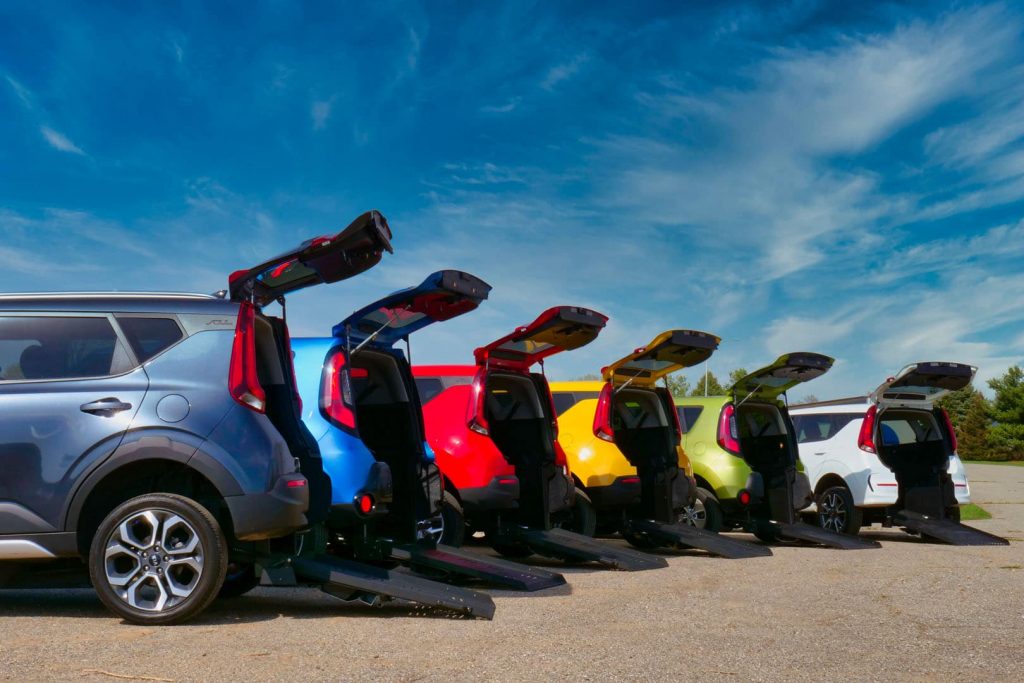 Can People in Wheelchairs Drive?
Of course! Believe it or not, driving is possible for those who live with limited arm and hand function or those who are paralyzed. There are a ton of options on the market today in regards to adaptive driving and vehicle modification equipment.
Wheelchair accessible vehicles are a great way for wheelchair users to gain freedom and independence. While cities are becoming more and more accessible each year, many are still hard to navigate for long distances. Wheelchair users who live in more rural areas will also benefit greatly from being able to travel whenever they need. 
It comes as no surprise then that some wheelchair users would like the option to purchase a vehicle they can drive themselves. While it may seem like a daunting task to find a vehicle that can accommodate a driver with mobility impairments, there are vehicles that can be customized to make the vehicle as accessible as possible. Let's take a look at some of the options available on the market today.
| | | |
| --- | --- | --- |
| Power Transfer Seat In Driving Position | Wheelchair Kia Soul | | Power Transfer Seat in Transfer Position | Wheelchair Kia Soul |
Power Transfer Driver and Passenger Seats
A big obstacle drivers in a wheelchair encounter is how to get behind the wheel of a vehicle. Power transfer seats are one way to handle this issue. 
Available on rear-entry vehicles, wheelchair users would enter the vehicle as they normally would. Using a remote control, the front seat can be pushed back so that it is in the second row next to the wheelchair. 
Either independently or with the help of a caregiver, the wheelchair user can then be transferred into the driver seat. Simply use the remote control to move the seat back behind the wheel and you're ready to drive.
Paired with an automatic ramp, a power transfer seat is a great option for those looking to drive themselves independently without the help of a caregiver. Power transfer seats can also be outfitted for the front passenger seat, making it a great choice for those who like to travel or take long trips.
The following Freedom Motors USA vehicles can be outfitted with a power transfer seat:
Wheelchair-Accessible Vehicle Hand Controls
Some wheelchair users don't have the ability to operate their vehicle using the standard pedals. Hand controls act as a solution to this problem.
Hand controls can be outfitted on most vehicles and allow the driver to control the gas and brake pedals using their hands. The push/pull style of hand controls is one of the most common, and adds a lever attached to the pedals below or next to the steering wheel. Pulling the lever towards the wheel accelerates, while pushing it away from the wheel applies the brakes. 
This style is popular because it is easy to use for drivers with or without finger strength and dexterity, but there are other options available as well. 
Drive From a Wheelchair
In addition to the options available above, some vehicles with a side-entry ramp can also be driven from a wheelchair. 
Generally, side-entry vehicles like the Toyota Sienna have removable front seats and allow wheelchair passengers to strap their chair down behind the front seats or where one of the front seats would normally be. This makes it possible to drive directly from a wheelchair. 
Although side-entry vehicles do provide this option, they come with their own set of challenges. Side-entry vehicles require a considerable amount of space alongside the vehicle to deploy the ramp, which can make it difficult to find an appropriate parking space. Rear-entry vehicles circumvent this issue by only requiring space behind the vehicle.
Read More:
Of course, these aren't the only options available to customize a wheelchair accessible vehicle. Vehicles can be outfitted with a variety of seating configurations and an automatic or manual rear-entry ramp, depending on your needs. Contact a Mobility Specialist today to discuss which options might work best for you.
Contact A Mobility Specialist Today
About Freedom Motors USA Wheelchair Accessible Vehicles
Why buy your wheelchair accessible vehicle from Freedom Motors USA? It's simple. Freedom Motors is family-owned and has been creating accessible vehicle conversions since 1987, making us one of the first companies in the industry. We have experience getting our customers what they need.
Don't know where to start?

Our team of Mobility Specialists will work with you to help find the vehicle that best suits your needs.

Shop from Home –

Freedom Motors will come to you anywhere in the country

to provide a demonstration

of any of our wheelchair conversions.

Exclusive Stock –

Shop our expansive list of

Wheelchair Accessible SUVs

that you won't find anywhere else in the mobility industry, including the Buick Enclave, Chevrolet Traverse, Kia Sorento, Kia Soul, Kia Telluride and Honda HR-V.

Hybrid Vehicles –

Check out the industry's first

Toyota Sienna Hybrid Wheelchair Van

wheelchair-accessible conversion, with a no-charge hybrid drivetrain making it the most efficient wheelchair van on the market.

Premium Features –

Freedom Motors conversions offer top-of-the-line features, like the automatic rear-entry ramp or our full and half-cut options that allow for more passenger seating options.

Superwide Ramps –

Freedom Motors offers the widest ramps in the industry that you won't find anywhere else, including the

Superwide 40" Dodge Grand Caravan

and the

Superwide 48" Toyota Sienna

.

Dedicated to Keeping You Moving – Contact us today and we'll work with you to find the right vehicle for you.