Half Cut vs. Full Cut Wheelchair Conversions: Which is Best For You?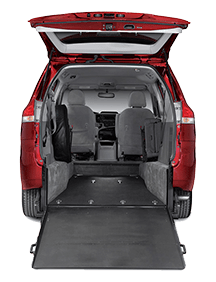 Finding a wheelchair accessible vehicle that has all the features you need without compromising the ones you want is tough. The extensive modifications required to accommodate a wheelchair user can often result in losing extra seating, cargo space, or other OEM features.
At Freedom Motors USA, our engineering philosophy is to keep our vehicles as close to OEM as possible. We know that keeping vehicles OEM keeps them working reliably and dependably, but we also know everyone's living situation is different and may require modifications to their vehicle.
We're dedicated to meeting every customer's needs, which is why we offer both full-cut and half-cut conversions on our vehicles. Offering both allows our vehicles to be highly customizable, offering all the features you need and the ones you want.
What's the Difference Between a Full-Cut and a Half-Cut Wheelchair Ramp Conversion?
Full-cut and half-cut both refer to the length of a rear-entry wheelchair ramp conversion. While the actual length of the ramp (the part that folds out so wheelchair users can enter the vehicle) varies from vehicle to vehicle, full-cut conversions seat the wheelchair passenger in the second row of seating while half-cut conversions seat them in the third row. These are also sometimes referred to as "long" and "short" conversions.
Benefits of a Full-Cut Wheelchair Vehicle Conversion
A full-cut conversion has a lowered floor that runs all the way to the second row of seating, placing wheelchair passengers behind the front driver and passenger seats. This option is available on all Freedom MotorsHandicap Vehicles For Sale.
This conversion allows wheelchair passengers to sit between two ambulatory passengers in the second row, which can be more comfortable than sitting alone in the third row. On some vehicles, it allows for up to two wheelchair passengers and can be used alongside folding seats to allow more passengers.
Benefits of a Half-Cut Wheelchair Vehicle Conversion
A half-cut conversion has a lowered floor that only extends into the third row of seating. This places wheelchair passengers behind the second row of seating and is available on select Freedom Motors vehicles.
Half-Cut Compatible SUVs
Half-Cut Compatible Vans
The half-cut conversion allows for the OEM second row bench in some vehicles to be remounted, which can create a comfier experience for lots of ambulatory passengers. This can make it a great choice for a commercial wheelchair vehicle (like taxi or rideshare drivers) or for those with large families who like to travel.
Not Sure What's Best For You? We Can Help.
Our Mobility Specialists are on call and ready to help. Contact us today and we can help you find the perfect vehicle to fit your needs.
About Freedom Motors USA Handicap Vehicles For Sale
Why buy your wheelchair accessible vehicle from Freedom Motors USA? It's simple. Freedom Motors is family-owned and has been creating accessible vehicle conversions since 1987, making us one of the first companies in the industry. We have experience getting our customers what they need.
Don't know where to start?

Our team of Mobility Specialists will work with you to help find the vehicle that best suits your needs.

Shop from Home –

Freedom Motors will come to you anywhere in the country

to provide a demonstration

of any of our wheelchair conversions.

Exclusive Stock –

Shop our expansive list of

Wheelchair Accessible SUVs

that you won't find anywhere else in the mobility industry, including the Buick Enclave, Chevrolet Traverse, Kia Sorento, Kia Soul, Kia Telluride and Honda HR-V.

Hybrid Vehicles –

Check out the industry's first

Toyota Sienna Hybrid Wheelchair Van

wheelchair-accessible conversion, with a no-charge hybrid drivetrain making it the most efficient wheelchair van on the market.

Premium Features –

Freedom Motors conversions offer top-of-the-line features, like the automatic rear-entry ramp or our full and half-cut options that allow for more passenger seating options.

Superwide Ramps –

Freedom Motors offers the widest ramps in the industry that you won't find anywhere else, including the

Superwide 40" Dodge Grand Caravan

and the

Superwide 48" Toyota Sienna

.

Dedicated to Keeping You Moving –

Contact us today

and we'll work with you to find the right vehicle for you.