Wheelchair-Accessible Chrysler Pacifica Interior Highlights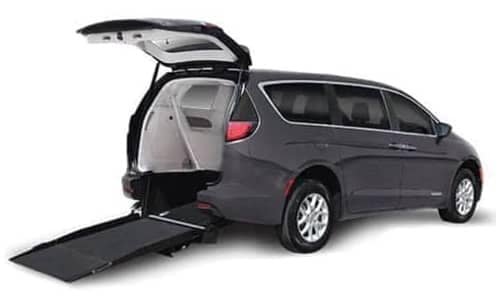 A wheelchair-accessible Chrysler Pacifica is perfect for those seeking a handicap-accessible vehicle that unites spacious dimensions with luxury appointments. If you're wondering what to expect from a converted Chrysler Pacifica interior, read on to learn more.
View Pacifica Gallery More Pacifica Specs and FeaturesChrysler Pacifica Handicap Vehicles For Sale
Handicap-Accessible Chrysler Pacifica Specs
Even unconverted Chrysler Pacifica models offer up to 140.5 cubic feet of cargo space and 165 cubic feet of passenger space. After being converted for wheelchair accessibility, the Chrysler Pacifica offers:
Door Height: 53.5"
Ramp Width: 37.5"
Ramp Length: 56.3"
Interior Height: 54.5"
Interior Length: 101"
Ground Clearance: 6"
A special 38" rear entry ramp ensures convenient entry, and you can choose between either a spring-assisted manual ramp or an automatic ramp with remote. Interior options include standard plush cloth carpet or available commercial-grade non-slip flooring.
An ADA compliant Pacifica is also available from Freedom Motors, making it a great choice for non-emergency medical transport or paratransit use.
Seating Options
A power transfer seat can be installed that allows the driver or passenger seat to be moved back, making it easy for wheelchair users to transfer themselves in and out of the seat. Hand controls can be installed to make the vehicle operable without using the pedals.
The Chrysler Pacifica also comes with a variety of available seating options for ambulatory passengers. A third row folding bench can allow the Pacifica to carry additional ambulatory passengers behind a wheelchair, and can be folded up to save space when not in use. Additionally, the second row OEM seats can be remounted, which is great for families with car seats.
Read More:
Wheelchair Van Seating Options
Handicap-Accessible Chrysler Pacifica Comfort and Convenience

Chrysler nameplates push for luxury, and the Pacifica is no exception — it's built for comfort, whether you're taking a short trip or driving from Chicago, Illinois to New York City, New York. The interior is available with premium Nappa leather upholstery for upscale comfort and style, plus a generous range of features to keep you and your fellow passengers feeling relaxed:
Heated first- and second- row seats
Ventilated front seats
Tri-zone automatic climate control
Power 8-way driver seat
Drivers and passengers alike will find those first-class comfort features perfectly complemented by first-rate conveniences.
Stow 'n Vac: Powered by RIDGID®, this built-in vacuum cleaner is the most powerful in the segment, and it extends throughout the entire cabin to clean up anything from food crumbs to dirt and dust.
Uconnect Theater: Enjoy on-the-go family entertainment from dual 10.1-inch HD touchscreens with Blu-ray player, dual HDMI inputs, wireless headphones, and wireless streaming.
8.4-Inch Touchscreen: Take effortless control of your interior environment from one of the segment's largest touchscreen displays.
Apple CarPlay/Android Auto: Sync with your smartphone to stream music, access contacts, and use certain apps through your touchscreen.
4G LTE Wi-Fi Hotspot: Connects with up to eight devices to let all passengers stream, browse, and share.
Get a Wheelchair-Accessible Pacifica With Freedom Motors USA
Whether you want us to modify your vehicle or provide a new one, we follow the Freedom Motors USA commitment to safety to ensure you receive the best possible product. If you'd like to find out more, don't hesitate to contact us today.