Why This Family Wanted A Rear-Entry Wheelchair SUV From Freedom Motors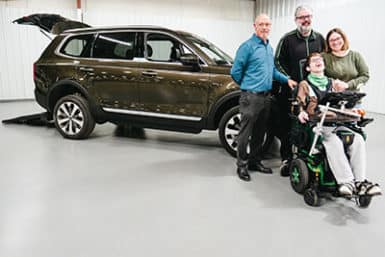 Nicole and Chris Jonsson needed a new wheelchair vehicle to transport their son, Will. There was one thing they knew for sure: they didn't want another side-entry vehicle.
Side-entry vehicles come with lots of issues. Because the ramp deploys from the side of the vehicle, it can be difficult to find a parking space with enough room on either side of the vehicle to use the ramp. 
Although handicap designated parking areas take this into consideration and provide space on either side, those parking spaces are often very limited. When there were no disability designated spaces available, Nicole said she'd have to drop Will off close to their destination while she left to go find parking, which she didn't like to do. 
She would also find that sometimes other drivers would then park beside their vehicle, making it impossible to deploy the ramp.
All of this meant that the Jonsson's landed on a rear-entry Kia Telluride converted by Freedom Motors USA.
By putting the ramp in the rear-hatch of the vehicle, rear-entry accessible vehicles avoid these problems. Any regular parking space with room behind the vehicle allows the ramp to deploy, and getting accidentally parked-in on the sides of the vehicle a non-issue. 
"It's just a lot easier to park, and to load and unload no matter where we are," Nicole said. "There was just a lack of accessible parking spots for a side entry van. It was a real ordeal no matter where we were to get parking."
Nicole also likes the rear-entry configuration because it allows her to transport Will and one of his friends who also uses a mobility chair.
Nicole and Chris chose to buy from Freedom because they wanted to choose from a large selection of accessible SUVs, not just vans. Above all else, they appreciated the customer service they received from Freedom and their mobility specialist Ed Hammock. 
Not only did Ed help them find a vehicle that was a good fit for their needs, he came to them to demonstrate the vehicle and ensure that Will could fit and ride comfortably.
"Ed has been our rock," Chris said. "He's been very, very helpful. Will really likes Ed, and the fact that he drove to Toledo twice is pretty amazing."