Wheelchair Accessible Chrysler Pacifica or Voyager: Which is Best?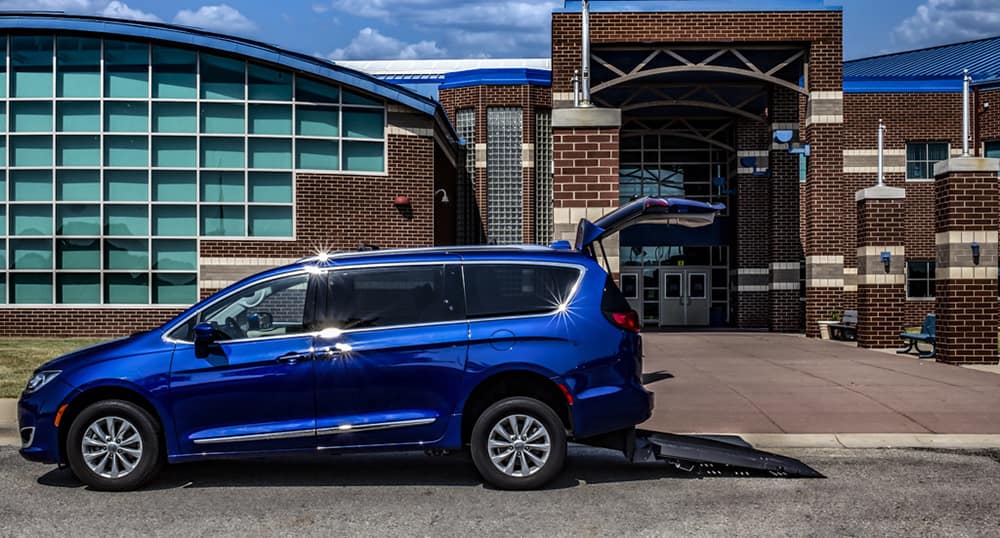 Fiat Chrysler Automobiles, the company that owns Chrysler, Dodge, and other manufacturers, made lots of changes to available vehicles in 2020. One of the biggest changes was the discontinuation of the Dodge Grand Caravan, which has been on the market in some shape or form since it's introduction in 1987 (we've been converting it for wheelchair accessibility ever since!).
Read More:
Along with this change came the reintroduction of the Chrysler Voyager. Although we're sad to see a vehicle as iconic as the Dodge Grand Caravan go, it's exciting to see the Voyager come back. Likewise, it's great to see FCA changing up their minivan lineup but it can be confusing as to what each model actually offers. Let's take a look at the models and break it down.
Chrysler Voyager vs. Chrysler Pacifica
At first glance, the Voyager and the Pacifica are very similar. It's no wonder why – the Voyager is replacing the two lowest trim levels of the Pacifica, the L and LX. This makes the new Voyager a great replacement for the discontinued Dodge Grand Caravan, with its affordable price and its classically elegant Chrysler styling.
That being said, the 2020 Voyager isn't really offering anything new. If you loved the 2019 Pacifica L and LX trims, you won't notice much of a difference on the 2020 Voyager – except for the Voyager badge. The same goes for the Freedom Motors USA wheelchair conversion and ramp, which remains durable and built to last on both vehicles. For those who like the Voyager but want more premium cabin features, the Pacifica is a great choice.
| | | |
| --- | --- | --- |
| Chrysler Pacifica Limited | vs. | Chrysler Voyager LX |
| 3.6L Pentastar V6 Engine | Engine | 3.6L Pentastar V6 Engine |
| 9 Speed Automatic Transmission | Transmission | 9 Speed Automatic Transmission |
| 287hp, 262 lb-ft Torque | Horsepower, Torque | 287hp, 262 lb-ft Torque |
| High Intensity Low Beam Fully Automatic Headlights | Headlights | Halogen Fully Automatic Headlights |
| 20" Painted Aluminum Wheels | Wheels | 17" Silver Aluminum Wheels |
| 1st and 2nd Row Sunroof | Sunroof | Not Available |
| Uconnect 4 8.4" Touchscreen | Multimedia | Uconnect 4 7" Touchscreen |
| Standard | Apple CarPlay & Android Auto | Standard |
| Back-Up Camera | Cameras | Back-Up Camera |
The Freedom Motors USA Conversion – Built to Last
Freedom Motors offers the same durable, easy-to-use and built to last wheelchair conversions on both the Chrysler Voyager and Pacifica. Made with commercial-grade vinyl flooring that's rugged enough to withstand daily wear and tear, the conversion is available with an automatic or manual ramp.
With an automatic ramp, wheelchair users can enter the vehicle completely independently. Using the manufacturer key fob to open the hatchback and a custom key fob provided by Freedom Motors to operate the ramp, no assistance is needed from a caregiver.
The spring-assist on the manual ramp model makes operating the conversion easy. Needing only the strength required to lift a gallon of milk, the ramp can easily be operated with one hand.
| | | |
| --- | --- | --- |
| Chrysler Pacifica Limited | vs. | Chrysler Voyager LX |
| 38″ | Ramp Width | 38″ |
| 60″ | Ramp Length | 60″ |
| 54″ or 56″ ADA Compliant Option | Door Opening Height | 54″ or 56″ ADA Compliant Option |
| 56.75″ | Interior Height | 56.75″ |
| 101″ | Floor Length | 101″ |
| Available | Front Power Transfer Seat | Available |
| OEM Captain's Chairs or Deluxe Buckets | Mid-Row Seating Options | OEM Captain's Chairs or Deluxe Buckets |
| Available | Third Row Seating Options | Available |
| Available | Hand Controls | Available |
Park anywhere with the rear-entry ramp, not just handicap designated parking spaces. With a ramp that's 38 inches wide and 60 inches long, wheelchair passengers can easily access the vehicle's roomy interior. Additional seating options make the Pacifica and Voyager versatile vehicles to suit your family or business needs. Remounted OEM chairs in the second row work great for children's car seats, and a third row bench option can help accommodate more ambulatory passengers for taxi or non-emergency medical transport services.
Read More:
About Freedom Motors USA Wheelchair Accessible Vehicles
Why buy your wheelchair accessible vehicle from Freedom Motors USA? It's simple. Freedom Motors is family-owned and has been creating accessible vehicle conversions since 1987, making us one of the first companies in the industry. We have experience getting our customers what they need.
Don't know where to start?

Our team of Mobility Specialists will work with you to help find the vehicle that best suits your needs.

Shop from Home –

Freedom Motors will come to you anywhere in the country

to provide a demonstration

of any of our wheelchair conversions.

Exclusive Stock –

Shop our expansive list of

Wheelchair Accessible SUVs

that you won't find anywhere else in the mobility industry, including the Buick Enclave, Chevrolet Traverse, Kia Sorento, Kia Soul, Kia Telluride and Honda HR-V.

Hybrid Vehicles –

Check out the industry's first

Toyota Sienna Hybrid Wheelchair Van

wheelchair-accessible conversion, with a no-charge hybrid drivetrain making it the most efficient wheelchair van on the market.

Premium Features –

Freedom Motors conversions offer top-of-the-line features, like the automatic rear-entry ramp or our full and half-cut options that allow for more passenger seating options.

Superwide Ramps –

Freedom Motors offers the widest ramps in the industry that you won't find anywhere else, including the

Superwide 40" Dodge Grand Caravan

and the

Superwide 48" Toyota Sienna

Dedicated to Keeping You Moving – Contact us today and we'll work with you to find the right vehicle for you.