Take a Look at this One-of-a-Kind Accessible Truck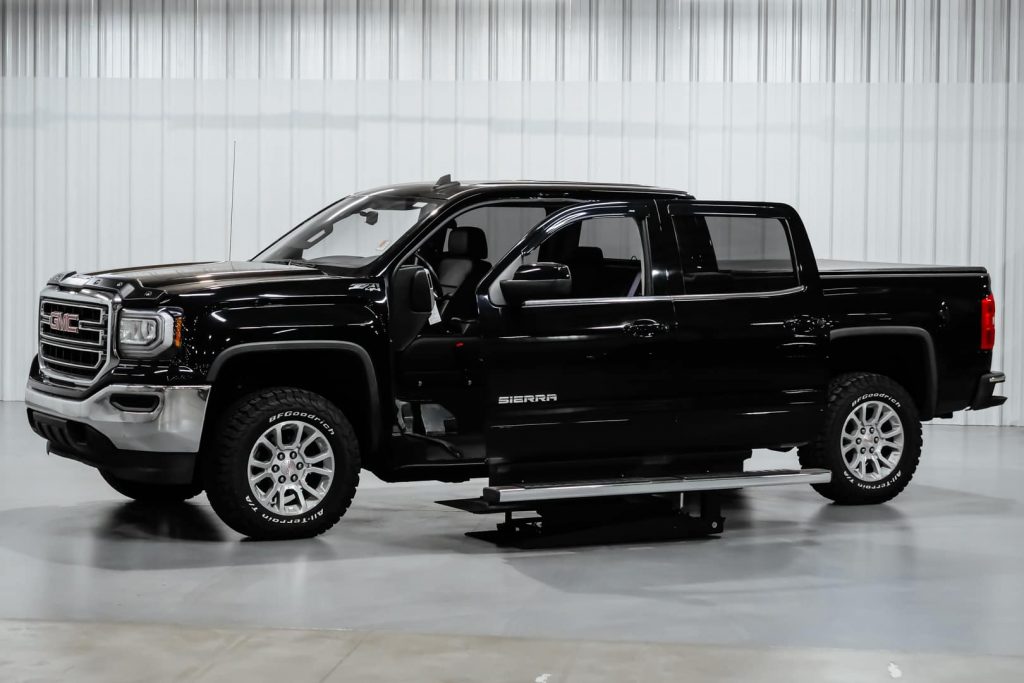 For a time, wheelchair-accessible trucks were the newest innovation in the mobility industry. Unfortunately it seems their time in the spotlight has passed and they are much harder to find, with many no longer being produced. 
Low demand, expensive production costs and other issues ultimately led to the decline of the wheelchair-accessible truck, with Wheelchair Accessible SUVs/span> avoiding these issues and becoming more popular in recent years.
Although they may not be in production, you can still find some accessible trucks on the used market. Let's take a look at this 2017 GMC Sierra originally converted by Freedom Motors USA that has found its way back to us.
Buy This Truck Handicap Vehicles For Sale
Drive Yourself in this Freedom Motors USA Conversion
The Freedom Motors conversion features an upgraded hydraulic lift system with a 750 pound capacity. The remounted OEM driver's chair can be removed or reinstalled as needed, to accommodate wheelchair users or ambulatory drivers on the fly. 
A set of push and pull hand controls installed on the vehicle make it easy for wheelchair users to operate. Simply pull the lever under the steering wheel up to accelerate and push it forward to brake. 
The deluxe interior crew cab seats up to 5. Passengers ride in luxury with an all leather interior. The spacious interior leaves plenty of room for everyone and everything, whether it's friends and family, outdoor gear, or man's best friend.
Loaded with Deluxe Features 
This particular GMC Sierra comes kitted out with lots of premium features that don't come standard on the base model. Equipped with the Z71 Off-Road package, a V8 engine and BF Goodrich All-Terrain tires, this rig will get you wherever you need to go no matter the weather and road conditions.
About Freedom Motors USA Wheelchair Accessible Vehicles
Why buy your wheelchair accessible vehicle from Freedom Motors USA? It's simple. Freedom Motors is family-owned and has been creating accessible vehicle conversions since 1987, making us one of the first companies in the industry. We have experience getting our customers what they need.
Don't know where to start?

Our team of Mobility Specialists will work with you to help find the vehicle that best suits your needs.

Shop from Home –

Freedom Motors will come to you anywhere in the country

to provide a demonstration

of any of our wheelchair conversions.

Exclusive Stock –

Shop our expansive list of

Wheelchair Accessible SUVs

that you won't find anywhere else in the mobility industry, including the Buick Enclave, Chevrolet Traverse, Kia Sorento, Kia Soul, Kia Telluride and Honda HR-V.

Hybrid Vehicles –

Check out the industry's first

Toyota Sienna Hybrid Wheelchair Van

wheelchair-accessible conversion, with a no-charge hybrid drivetrain making it the most efficient wheelchair van on the market.

Premium Features –

Freedom Motors conversions offer top-of-the-line features, like the automatic rear-entry ramp or our full and half-cut options that allow for more passenger seating options.

Superwide Ramps –

Freedom Motors offers the widest ramps in the industry that you won't find anywhere else, including the

Superwide 40" Dodge Grand Caravan

and the

Superwide 48" Toyota Sienna.

Dedicated to Keeping You Moving –

Contact us today

and we'll work with you to find the right vehicle for you.