3 Seating Options for Your Wheelchair Accessible Vehicle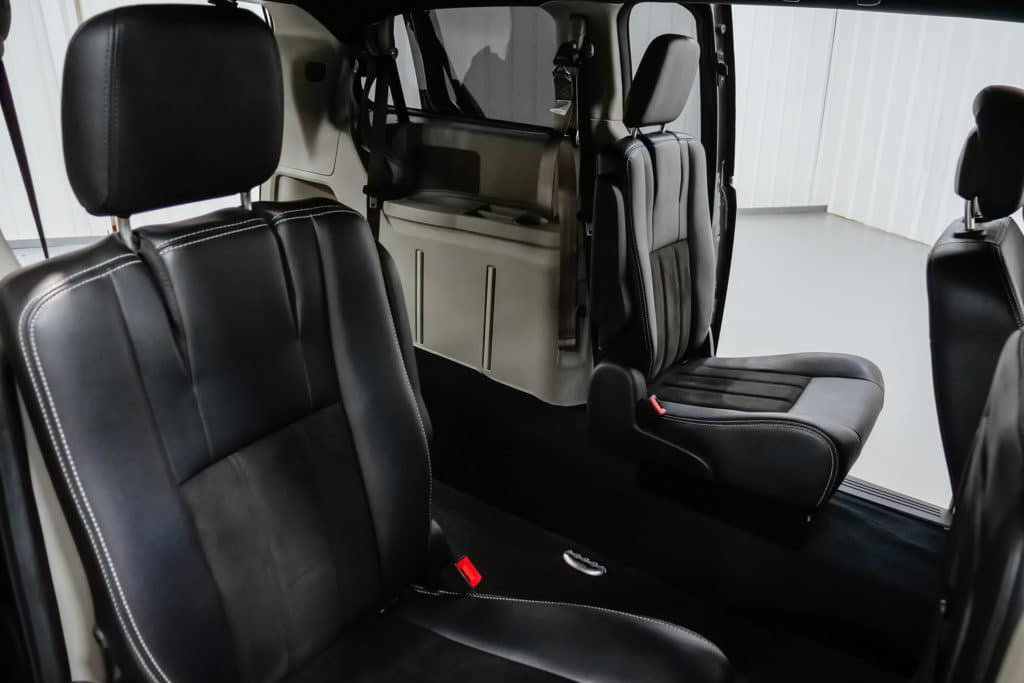 When searching for a Handicap Vehicles For Sale, it can be difficult to find one that fits your needs. Finding the right kind of ramp or hand controls that work well for you can get confusing. 
One of the biggest challenges can be finding an accessible vehicle with the right seating options. Because both side and rear-entry wheelchair accessible vehicles require extensive modifications to accommodate a ramp and wheelchair passenger, converted vehicles are often lacking when it comes to seating extra passengers. 
At Freedom Motors USA, we understand that you shouldn't have to compromise. There's a variety of options available that mean you don't have to sacrifice seating for accessibility. Speak to one of our Mobility Specialists today to help find out which option is best for your situation.
Second Row Seating Options – OEM or Aftermarket
On full-cut vehicles, the wheelchair passenger sits in the second row, which means the original seats may need to be modified or removed. Half-cut conversions have the wheelchair passenger sitting behind the second row. The OEM second row seats can be remounted in a variety of ways, or aftermarket seats can be installed. 
Read More:
Guide to Wheelchair Ramps in Handicap Converted Vehicles
OEM Remount Options
OEM remounted seats use the original seats that come with the vehicle, which means they are generally larger than some aftermarket options. This makes them great for those looking to secure large child car seats, or those who simply want the most comfortable back seat experience.
Vehicles with second-row captain's chairs will see the seats remounted on either side of the channel where the wheelchair passenger sits. This allows two ambulatory passengers to sit in the second row, one on either side of the wheelchair passenger.
Full-cut conversions that originally come with a second-row bench seat will have the bench remounted on 60/40 Flip & Fold bases. This means the bench can be folded down when there is no wheelchair passenger in the second-row to seat three ambulatory passengers. Most vehicles with this configuration have room to seat a wheelchair passenger in the third row, meaning you can transport ambulatory and wheelchair passengers together.
Half-cut conversions will leave the second row seating completely unmodified, whether they have a bench or captain's chairs. In these vehicles, the wheelchair passenger sits in the third row.
Super Deluxe Bucket Seats
The Super Deluxe Buckets are an aftermarket seat that can be installed instead of the OEM seats. They are slightly narrower than OEM captain's chairs, allowing for more room for the wheelchair passenger in the second-row. These seats come available in premium vinyl or cloth and a variety of colors to match the OEM interior as closely as possible. 
Read More:
Wheelchair Van Seating Options
Third Row Seating Options – Two Person Folding Bench
Some full-cut and half-cut vehicles also offer ambulatory seating in the third row. On the available vehicles, this will come in the form of a folding bench that can seat two passengers. Because of its position in the third row, it can be folded up to allow the wheelchair passenger to enter the vehicle, and folded down behind them once their wheelchair has been secured. 
Not Sure What's Best For You?
Buying a wheelchair accessible vehicle is a big decision, and we understand at Freedom Motors that it can be confusing. With lots of options to choose from, it can be hard to know what's best for your needs. That's why we have our Mobility Specialists ready to help you find the vehicle that's right for you. Contact us today for a free consultation.
About Freedom Motors USA Wheelchair Accessible Vehicles
Why buy your wheelchair accessible vehicle from Freedom Motors USA? It's simple. Freedom Motors is family-owned and has been creating accessible vehicle conversions since 1987, making us one of the first companies in the industry. We have experience getting our customers what they need.
Don't know where to start?

Our team of Mobility Specialists will work with you to help find the vehicle that best suits your needs.

Shop from Home –

Freedom Motors will come to you anywhere in the country

to provide a demonstration

of any of our wheelchair conversions.

Exclusive Stock –

Shop our expansive list of

Wheelchair Accessible SUVs

that you won't find anywhere else in the mobility industry, including the Buick Enclave, Chevrolet Traverse, Kia Sorento, Kia Soul, Kia Telluride and Honda HR-V.

Hybrid Vehicles –

Check out the industry's first

Toyota Sienna Hybrid Wheelchair Van

wheelchair-accessible conversion, with a no-charge hybrid drivetrain making it the most efficient wheelchair van on the market.

Premium Features –

Freedom Motors conversions offer top-of-the-line features, like the automatic rear-entry ramp or our full and half-cut options that allow for more passenger seating options.

Superwide Ramps –

Freedom Motors offers the widest ramps in the industry that you won't find anywhere else, including the

Superwide 40" Dodge Grand Caravan

and the

Superwide 48" Toyota Sienna

.

Dedicated to Keeping You Moving –

Contact us today

and we'll work with you to find the right vehicle for you.