Why You Should Consider a Wheelchair SUV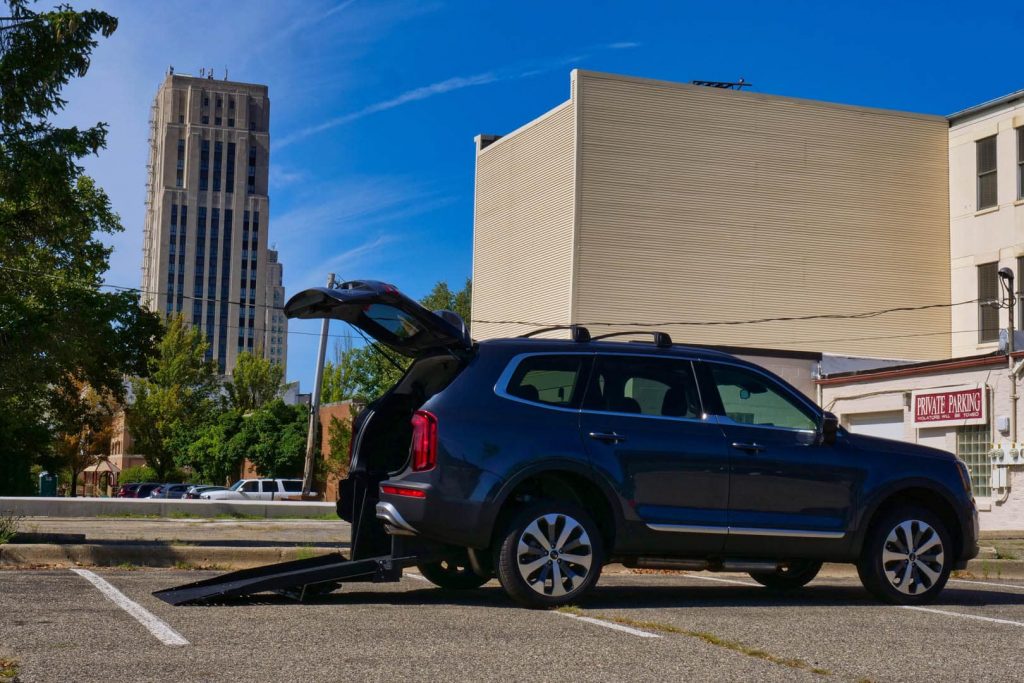 When thinking about wheelchair accessible vehicles, vans and minivans are usually what come to mind. The first wheelchair accessible vehicles on the market were vans, and they are still very common today.
While minivans have remained popular both in and out of the mobility market, they don't quite have the same appeal they did 10 years ago. Terms like "sporty," "sleek," and "hip" generally don't come to mind when someone tells you about the newest minivan to enter the market (except when that minivan is our Toyota Sienna Hybrid Wheelchair Van).
SUVs have largely replaced the minivan in the auto market in recent years, and they've seen an increase in popularity in the accessible vehicle market as well. It's plain to see why: SUVs offer all the space of a minivan often while providing more amenities, a sleeker look, and more power underneath the hood. Let's take a look at some of the reasons why SUVs are taking over the accessible vehicle market.
Spacious on the inside, sporty on the outside
When it comes to wheelchair conversions, interior space is important. It allows room for the wheelchair ramp, and more space makes for a more comfortable ride for the wheelchair user and any other passengers.
With a full size SUV like the Kia Telluride, space is not an issue. With room for a wheelchair passenger, three ambulatory passengers and the driver, it can fit the whole family just as well as a minivan. If that's still not enough seating, the half-cut option for the Kia Telluride retains the OEM second row bench seat, allowing for one wheelchair passenger, 4 ambulatory passengers and the driver.
More responsive, more efficient
Anyone that has driven a minivan knows that it can be a daunting task to maneuver through rush-hour traffic and busy parking lots. Their large size and long wheelbase can make it difficult to know where the vehicle is on the road and in relation to traffic and obstacles.
SUVs like the Honda HR-V and Kia Soul solve these issues by being more compact. A shorter wheelbase, lighter chassis and zippier engine all result in a more responsive driving experience than you'd get from a Dodge Grand Caravan or Chrysler Pacifica. On top of all this, their compact size gets them better gas mileage, too. Compared against the Honda HR-V's 28 mpg and the Kia Soul's 30 mpg, the 20 mpg Grand Caravan and 22 mpg Pacifica are gas guzzlers.
Get more for less
One of the biggest perceived obstacles to buying an SUV over a minivan is the price tag. It just seems intuitive that SUVs should cost more than a minivan, with SUVs like the Buick Enclave or Chevrolet Traverse being marketed as sporty, luxury vehicles and minivans often being presented as the budget-conscious option.
These observations may have been true in the past, but the auto market has changed since then. Fiat Chrysler Automobiles has killed off the popular and very affordable Dodge Grand Caravan, while the Chrysler Pacifica and Toyota Sienna keep getting upgrades to make them competitive with the growing SUV market.
What does this mean for those of us looking to purchase a vehicle soon? The price gap between SUVs and minivans is quickly closing. SUVs are becoming cheaper or largely staying at the same price, while minivan prices are beginning to rise steeply. The unconverted, base 2021 Kia Telluride MSRP starts at $32,190, while the 2021 Toyota Sienna starts at $34,460 and the Chrysler Pacifica starts at $36,245.
Why settle for a minivan?
With all that being said, why settle for a minivan? Wheelchair SUVs are becoming more and more readily available and offer a good-if-not-better driving and riding experience. Contact Freedom Motors USA today to find a vehicle right for you.
About Freedom Motors USA Wheelchair Accessible Vehicles
Why buy your wheelchair accessible vehicle from Freedom Motors USA? It's simple. Freedom Motors is family-owned and has been creating accessible vehicle conversions since 1987, making us one of the first companies in the industry. We have experience getting our customers what they need.
Don't know where to start?

Our team of Mobility Specialists will work with you to help find the vehicle that best suits your needs.

Shop from Home –

Freedom Motors will come to you anywhere in the country

to provide a demonstration

of any of our wheelchair conversions.

Exclusive Stock –

Shop our expansive list of

Wheelchair Accessible SUVs

that you won't find anywhere else in the mobility industry, including the Buick Enclave, Chevrolet Traverse, Kia Sorento, Kia Soul, Kia Telluride and Honda HR-V.

Hybrid Vehicles –

Check out the industry's first

Toyota Sienna Hybrid Wheelchair Van

wheelchair-accessible conversion, with a no-charge hybrid drivetrain making it the most efficient wheelchair van on the market.

Premium Features –

Freedom Motors conversions offer top-of-the-line features, like the automatic rear-entry ramp or our full and half-cut options that allow for more passenger seating options.

Superwide Ramps –

Freedom Motors offers the widest ramps in the industry that you won't find anywhere else, including the

Superwide 40" Dodge Grand Caravan

and the

Superwide 48" Toyota Sienna

.

Dedicated to Keeping You Moving – Contact us today and we'll work with you to find the right vehicle for you.