Why This Family Chose Freedom Motors USA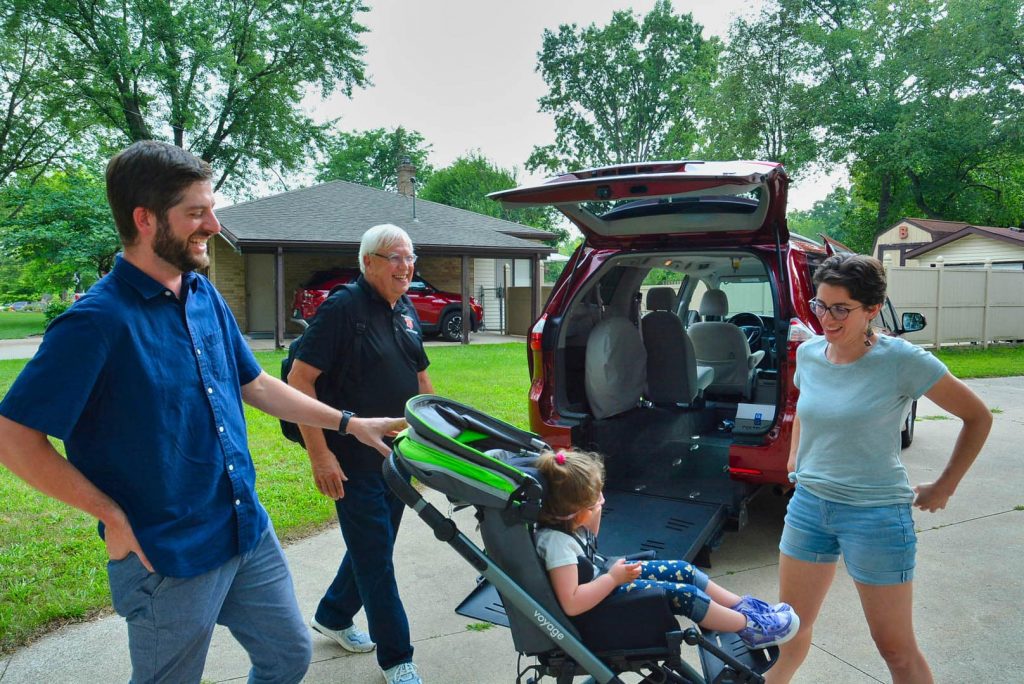 For parents Rachael and Kyle, getting their daughter Ruby ready to leave the house in their old Subaru Forester was anything but easy. 
Getting Ruby from her wheelchair to a car seat and back again was a challenge, not to mention that storing and unloading her adaptive stroller multiple times per trip was a time-consuming task.
"To be a parent of a kid with disabilities — and severe disabilities like Ruby that makes it so she's not mobile at all — it's just really physical work," Rachael said. 
With a rear-entry Toyota Sienna from Freedom Motors USA, those struggles are a thing of the past. Rachael and Kyle said it's a relief they can simply deploy the ramp, roll Ruby's wheelchair in and secure it in place for a safe and secure ride. Even Ruby likes riding in the family's new Freedom Motors van.
"The first time we took a ride in it, she was thrilled," Rachael said. "She likes being up higher, being able to see out the front window, and that she's closer to us and can see what we're doing."
Rachael and Kyle said they chose their Toyota Sienna because it was a rear-entry van that had all the features they needed, with minimal changes to other parts of the vehicle. More than that, they appreciated that Freedom Motors stands behind their conversions as a rear-entry vehicle manufacturer, not just as a dealer. 
Most of all, Ruby's parents were grateful for how easy it was to work with the Freedom Motors team. Mobility Specialist Karl Hosten worked with Kyle and Rachael every step of the way, addressing their concerns and making sure their needs were being met.
"It didn't feel like a business transaction, it felt like you were just part of our support team," Kyle said. "I can't tell you how much we appreciate that."
Beyond that, in some ways it just felt like it was meant to be.
"This is Ruby and that is a ruby red van," Kyle said. "It sort of feels like a match made in heaven."
About Freedom Motors USA Wheelchair Accessible Vehicles
Why buy your wheelchair accessible vehicle from Freedom Motors USA? It's simple. Freedom Motors is family-owned and has been creating accessible vehicle conversions since 1987, making us one of the first companies in the industry. We have experience getting our customers what they need.
Don't know where to start?

Our team of Mobility Specialists will work with you to help find the vehicle that best suits your needs.

Shop from Home –

Freedom Motors will come to you anywhere in the country

to provide a demonstration

of any of our wheelchair conversions.

Exclusive Stock –

Shop our expansive list of

Wheelchair Accessible SUVs

that you won't find anywhere else in the mobility industry, including the Buick Enclave, Chevrolet Traverse, Kia Sorento, Kia Soul, Kia Telluride and Honda HR-V.

Hybrid Vehicles –

Check out the industry's first

Toyota Sienna Hybrid Wheelchair Van

wheelchair-accessible conversion, with a no-charge hybrid drivetrain making it the most efficient wheelchair van on the market.

Premium Features –

Freedom Motors conversions offer top-of-the-line features, like the automatic rear-entry ramp or our full and half-cut options that allow for more passenger seating options.

Superwide Ramps –

Freedom Motors offers the widest ramps in the industry that you won't find anywhere else, including the

Superwide 40" Dodge Grand Caravan

and the

Superwide 48" Toyota Sienna

.

Dedicated to Keeping You Moving –

Contact us today

and we'll work with you to find the right vehicle for you.