Why This Family Bought From Freedom Motors USA Again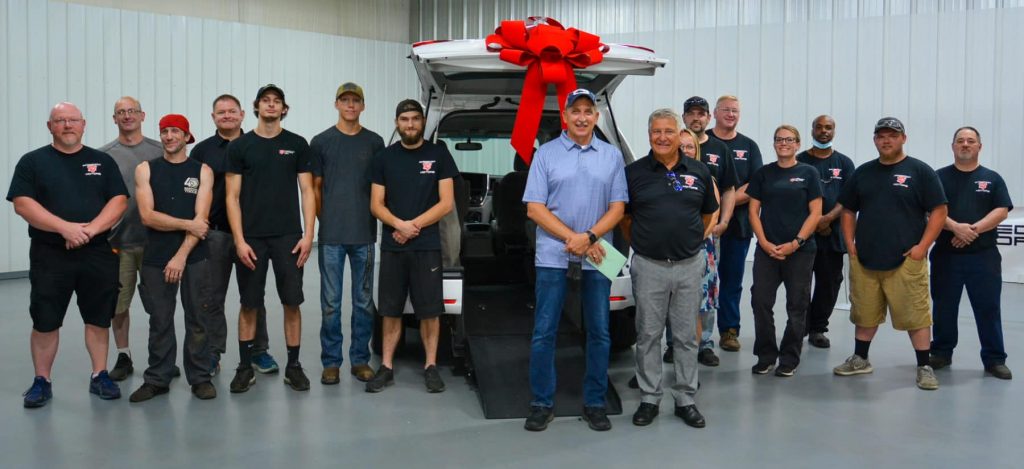 In 2016, Brian was looking for a wheelchair accessible vehicle for his daughter. He didn't think he would be able to afford it.
When he found Freedom Motors USA online, Brian got in touch with Mobility Specialist Ray Fosburg to talk about what he needed. Ray walked Brian through some financing options that would make it affordable for Brian's family.
"My daughter didn't want a van because she was a teenager," Brian said. "That's why we chose the Kia Soul – it was more cool for her age."
The Kia Soul was a great option for his daughter – the automatic ramp and power transfer seat meant that she could enter the vehicle and transfer to the driver seat by herself. It was the perfect vehicle for an independent teenager.
"I didn't have to take her anywhere," Brian said. "She was independent and able to do as she pleased."
With big changes happening in his daughter's life, she would need a new vehicle.
"She just got married and is going to be starting a family soon," Brian said. "Now she's going to need a van."
This time, the Toyota Sienna would be the perfect vehicle for Brian's daughter. Her Sienna is still outfitted with an automatic ramp, power transfer seat and hand controls all while providing more seating. With the folding bench in the third row, her Sienna can fit her wheelchair and five passengers.
Brian said that none of this would have been possible without Freedom Motors.
"Thank you for setting up our family to be successful in life, making a difference in other people's lives the way you all do so that we can do the same for others," He said. "We appreciate it."
About Freedom Motors USA Wheelchair Accessible Vehicles
Why buy your wheelchair accessible vehicle from Freedom Motors USA? It's simple. Freedom Motors is family-owned and has been creating accessible vehicle conversions since 1987, making us one of the first companies in the industry. We have experience getting our customers what they need.
Don't know where to start?

Our team of Mobility Specialists will work with you to help find the vehicle that best suits your needs.

Shop from Home –

Freedom Motors will come to you anywhere in the country

to provide a demonstration

of any of our wheelchair conversions.

Exclusive Stock –

Shop our expansive list of

Wheelchair Accessible SUVs

that you won't find anywhere else in the mobility industry, including the Buick Enclave, Chevrolet Traverse, Kia Sorento, Kia Soul, Kia Telluride and Honda HR-V.

Hybrid Vehicles –

Check out the industry's

first 2021 Toyota Sienna Hybrid

wheelchair-accessible conversion, with a no-charge hybrid drivetrain making it the most efficient wheelchair van on the market.

Premium Features –

Freedom Motors conversions offer top-of-the-line features, like the automatic rear-entry ramp or our full and half-cut options that allow for more passenger seating options.

Superwide Ramps –

Freedom Motors offers the widest ramps in the industry that you won't find anywhere else, including the

Superwide 40" Dodge Grand Caravan

and the

Superwide 48" Toyota Sienna

.

Dedicated to Keeping You Moving –

Contact us today

and we'll work with you to find the right vehicle for you.