Why Freedom Motors Was the Right Choice for This Family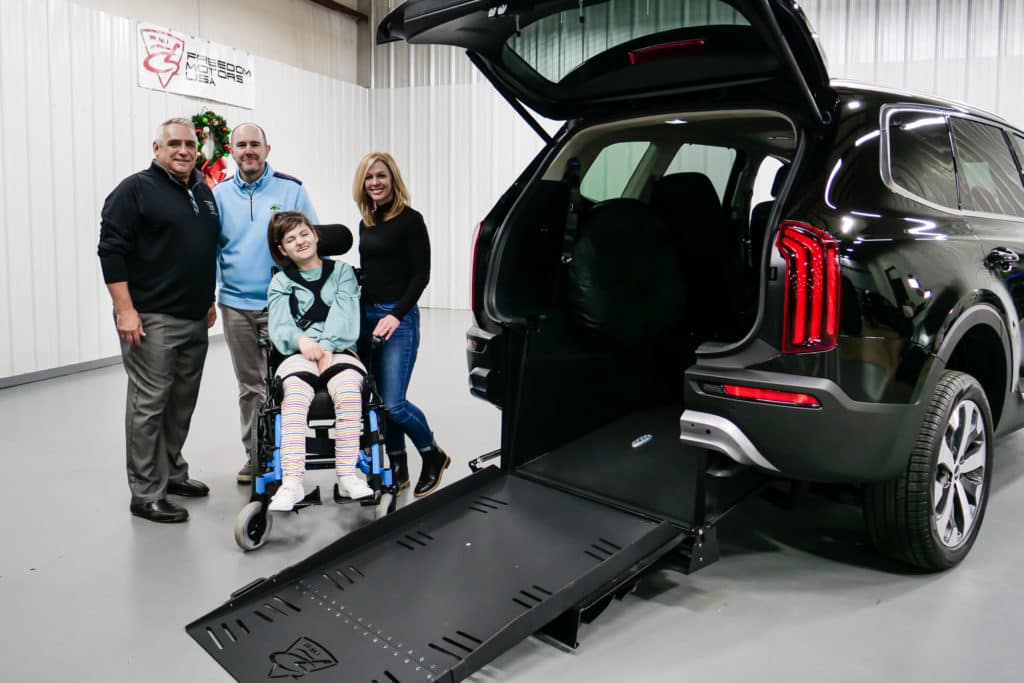 Ron and Melissa Ralston needed a new wheelchair accessible vehicle for their daughter, but they didn't want just another minivan. 
Their 15-year-old daughter Vivian was diagnosed with a rare genetic disorder, CDKL5, when she was only two. The disorder is so rare there were only about 500 diagnosed cases worldwide when Vivian was diagnosed.
"The main symptoms are seizures and cognitive delays," Melissa said. "Vivian doesn't walk, and she needs a pureed diet. But, she's happy and she's up for anything."
To accommodate Vivian's wheelchair, Melissa has been driving a side-entry minivan for years. It gets the job done, but it was time for a change. The Ralstons chose a rear-entry Kia Telluride from Freedom Motors USA. 
Not only does the Kia Telluride offer all the amenities that come with driving a full-size SUV, but it's rear-entry conversion offers a more convenient and easy to use ramp. Side-entry vehicles require several feet of clear space on one side of the vehicle so the ramp can deploy. 
This means drivers are limited to parking in designated handicap parking spaces or they risk the ramp being blocked by other drivers parking next to their vehicle. Rear-entry handicap vehicles solve this problem by allowing wheelchair users to enter and exit the vehicle through the rear-hatch, allowing drivers to park nearly anywhere in a parking lot. 
"Melissa's never had the opportunity to have a cool car, so it was nice to have an SUV option," Ron said. "Sometimes it's very challenging to find a parking spot [for side-entry vehicles], so the rear-entry enables us to go anywhere and do anything we want without having to worry about parking spaces."
Ron and Melissa worked with Freedom Motors Mobility Specialist Kevin Barnes. Kevin gave the Ralstons a tour of the Freedom Motors facility and showed them several vehicles he thought might be a good fit for their needs.
"Kevin wanted to make sure we test drove a converted vehicle, and that helped a lot too," Melissa said. "There were no surprises in the end."
About Freedom Motors USA Wheelchair Accessible Vehicles
Why buy your wheelchair accessible vehicle from Freedom Motors USA? It's simple. Freedom Motors is family-owned and has been creating accessible vehicle conversions since 1987, making us one of the first companies in the industry. We have experience getting our customers what they need.
Don't know where to start?

Our team of Mobility Specialists will work with you to help find the vehicle that best suits your needs.

Shop from Home –

Freedom Motors will come to you anywhere in the country

to provide a demonstration

of any of our wheelchair conversions.

Exclusive Stock –

Shop our expansive list of

Wheelchair Accessible SUVs

that you won't find anywhere else in the mobility industry, including the Buick Enclave, Chevrolet Traverse, Kia Sorento, Kia Soul, Kia Telluride and Honda HR-V.

Hybrid Vehicles –

Check out the industry's first

Toyota Sienna Hybrid Wheelchair Van

wheelchair-accessible conversion, with a no-charge hybrid drivetrain making it the most efficient wheelchair van on the market.

Premium Features –

Freedom Motors conversions offer top-of-the-line features, like the automatic rear-entry ramp or our full and half-cut options that allow for more passenger seating options.

Superwide Ramps –

Freedom Motors offers the widest ramps in the industry that you won't find anywhere else, including the

Superwide 40" Dodge Grand Caravan

and the

Superwide 48" Toyota Sienna

.

Dedicated to Keeping You Moving –

Contact us today

and we'll work with you to find the right vehicle for you.