What Are Wheelchair Securement Options?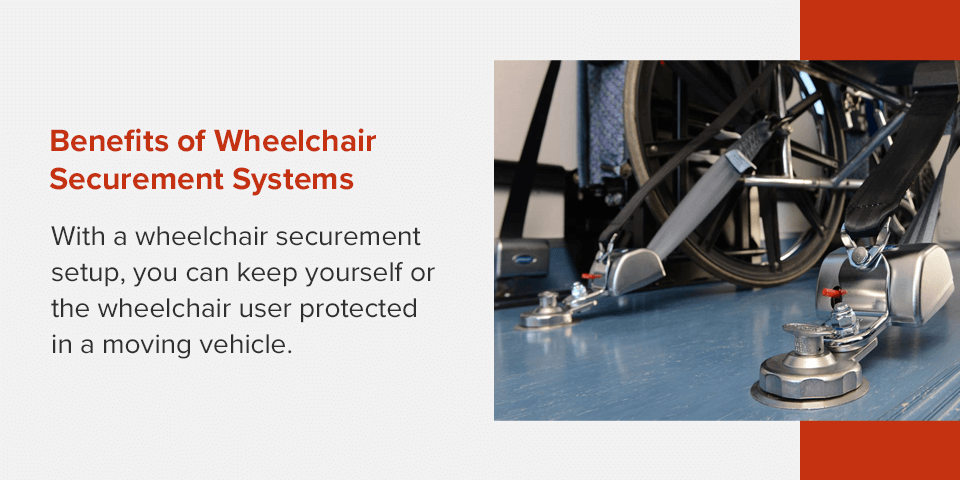 Nearly 3 million people use wheelchairs in the United States, including children, adults and older adults. Accessible vehicles allow wheelchair users to go wherever they need, whether they're on their way to school, work or about to take a shopping trip. An essential part of a wheelchair-accessible vehicle is its tie-down system, which keeps the wheelchair in place and increases passenger safety.
Although all wheelchair securement systems serve the same purpose — to create a safe and secure ride — you still have numerous options to choose between. If you're searching for a wheelchair tie-down system to suit your needs, we're here to help make your decision as easy as possible.
Let's explore the various types of wheelchair securements and their benefits.
What Is a Wheelchair Securement System?
First, you might be wondering what a wheelchair securement system is. A wheelchair securement system is built into the floor of an accessible vehicle. It typically includes the following components:
Floor anchors: A vehicle's anchorage system attaches to the tie-downs and secures them to the floor. This system may consist of tracks or puck-shaped anchors.
Tie-down straps: Wheelchair tie-downs, also called securements, are durable straps that attach to the anchors at one end and hook onto the wheelchair's frame at the other end with S or J hooks. The tie-downs secure the wheelchair at four different points with two straps in the front and two straps in the back. Tie-downs are necessary to hold the wheelchair in place and keep it from tilting, tipping or turning as the vehicle moves.
Seat belts: Wheelchair seat belts, also called occupant restraints, consist of a shoulder and lap belt. A separate occupant restraint system mounts to the vehicle's structure while an integrated system anchors to the wheelchair. Both keep the rider secure in their wheelchair seat and are just as important as regular seat belts.

Benefits of Wheelchair Securement Systems
There are many advantages to wheelchair securement systems. Whether you drive every day or once per week, you want to ensure each ride is as safe and convenient as possible. With a wheelchair securement setup, you can keep yourself or the wheelchair user protected in a moving vehicle. Additionally, there's an extra layer of security should an accident happen. This peace of mind makes driving less stressful and more enjoyable.
Further, you'll find that these systems are designed for comfort and easy use. For the most part, there's no hassle involved in setting up wheelchair securement systems. While some models require a bit of practice to perfect, your model's operation will soon be second nature. As a result, the driver can experience greater independence in their daily life. These setups allow them more freedom to do the activities they love.
Those considering a wheelchair securement system should note that various options exist. Therefore, you'll want to know the ins and outs of each one to ensure you make the right choice for your situation. There are many variables to consider, so keep reading to determine which option will work best for you.
The Different Types of Wheelchair Tie-Downs
When choosing a wheelchair securement system, it's essential to consider your needs, wants and budget. For example, do you want the most convenient tie-down option, or do you prefer a more budget-friendly system? No matter what type of fastening system you're considering, you should make the safety features your top priority. This way, you can relieve any possible worries when you get into your vehicle.
There are 6 different types of wheelchair tie-downs that include manual, retractable, electrical, L-track, slide-and-click, and wheelchair docking systems. To help you select the best securement option for your situation, here are the different types and their benefits:
1. Manual Tie-Downs
If you're looking for the most economical wheelchair tie-down system, you should consider manual securements. Manual tie-downs are an effective but low-cost choice designed to meet your safety requirements. You can use these straps for a passenger in a bus, converted minivan or another wheelchair-accessible vehicle.
With manual tie-downs, the passenger will need an assistant to help them secure their wheelchair. Here's a quick overview of how manual tie-downs work:
Lock each tie-down into the anchor system, which is often a metal track.
Use the hook on the other end of the strap to connect each tie-down to the wheelchair frame.
Attach the straps at four different points and adjust them manually using a cam or ratchet buckle.
To remove the tie-downs, loosen each strap and unhook them from the wheelchair.
Look at a few of the benefits of manual tie-downs:
They're the most affordable option on the market.
They're compatible with numerous standard and power wheelchairs.
They don't require additional hardware.
2. Retractable Tie-Downs
Retractable tie-downs are the most widely used wheelchair securement system. They're similar to manual securements, except they automatically retract and tighten, securing the wheelchair in place with little effort. Also, the excess strap goes into a sturdy housing, so you won't have to worry about tie-downs getting in the way. Since retractable tie-downs self-tighten, wheelchair users can operate them independently by connecting the straps to non-moving parts of the wheelchair.
Check out the benefits of retractable tie-downs:
They're suitable for most vehicles.
They fit many wheelchair styles.
They're convenient and easy to operate.
They require no assistance.
They feature a quick-release lever.
You can choose retractable tie-downs that are either semi-automatic or fully automatic. Semi-automatic retractors require additional tightening but offer a more economical solution. Fully automatic retractors do most of the work for you, eliminating slack and firmly securing the wheelchair.
3. Electrical Retractors
Electrical retractors may be the ideal solution if you have limited space in your vehicle. Typically, you'll use electrical retractors as front tie-downs and control them through your vehicle's electrical system with a button. Electrical securements like Q'Straint's electrical retractors are compatible with standard automotive batteries.
Here are the benefits of an electrical retractor system:
They feature simple, straightforward installation.
They're suitable for most rear-entry wheelchair-accessible vehicles.
They're quick and easy to use.
With the push of a button, electrical retractors take care of half the work.

4. L-Track Attachments
To have wheelchair securements in your vehicle, you first need an anchorage system. An L-track anchorage system may be your go-to choice when you want flexibility regarding wheelchair placement. What are L-track attachments?
An L-track system consists of aluminum or stainless steel strips that are bolted to a vehicle's floor. These metal strips feature pre-drilled holes, which allow you to attach manual tie-downs or retractors and lock them into place. With an L-track system, you can position the wheelchair wherever you want along the tracks. You'll often find L-tracks in buses, transport vans and other wheelchair-accessible vehicles.
Overall, you can enjoy many advantages with an L-track attachment:
They enable flexible wheelchair placement.
They're suitable for various tie-downs.
They're compatible with just about any wheelchair-accessible vehicle.
Although you can use manual securements with L-tracks, you may want to consider easy-to-use retractable attachments instead. For example, Q'Straint manufactures have three different retractors for L-track applications, including Standard, Deluxe and Max. Standard retractors are semi-automatic, while the Deluxe and Max models are fully automatic.
All of them feature a universal design to suit most wheelchair types, along with convenient foot release levers, low profiles and ultra-durable housing.
5. Slide-and-Click Mounting Systems
If you don't need the flexibility of an L-track arrangement, you may prefer a simple slide-and-click mounting system. Q'Straint's Slide 'N Click is a fixed securement system, meaning you'll have to secure the wheelchair in the same spot every time. However, you won't have to think about aligning tie-downs in a track when you use a slide-and-click system.
This system consists of button-shaped anchors mounted to a vehicle's floor and click-in-place top assemblies that attach to the tie-downs. The anchors feature 360-degree rotation so you can attach tie-downs from any angle. They also have a compact, low-profile shape, so you can walk or roll right over them with ease.
Here are few perks of Slide 'N Click systems:
They're fast and easy to use.
They reduce the chance of improperly attaching tie-downs.
They're made with durable cast steel construction.
You can use these simple yet innovative anchors with a variety of retractors.
6. Wheelchair Docking Systems
Are you looking for a reliable solution that allows you to drive or ride independently? With an automatic wheelchair docking system, you can have a safe ride without straps, tracks or assistance.
An automatic docking system consists of two main components:
A customized bracket and pin that attaches to the bottom of the wheelchair
A docking station mounted to the vehicle's floor
To use an automatic docking system, all a person has to do is drive their wheelchair over the docking station. The docking station has a spring-loaded hook that grabs onto the wheelchair's pin, locking the wheelchair into place. Automatic docking systems come with dashboard controls so users can easily release or secure their chair by pressing a button. Like other securement options, docking systems are used along with occupant restraints for complete safety.
Automatic docking systems are required for people who drive their own vehicles from their wheelchairs. However, passengers can also use them.
The benefits for both drivers and passengers are as follows:
They don't have to deal with a tie-down system.
They can enjoy a quick and easy securement.
They can secure their wheelchairs independently.
Since docking systems require specific hardware, they're meant for personal vehicles and aren't used in public transportation.
Q'Straint Wheelchair Securement Systems
At Freedom Motors, we proudly equip our converted vehicles with dependable and innovative Q'Straint wheelchair securement systems. Q'straint is a trusted manufacturer of wheelchair securements, providing everything from reliable manual tie-downs to first-of-its-kind electrical retractors.
Q'Straint securement products include:
If you have any questions about the Q'Straint securement systems we install in our vehicles, we're happy to help answer them.

How to Choose Wheelchair Securements
Not all securement systems are compatible with every wheelchair, so it's important to read through the wheelchair manufacturer's guidelines before making a selection. It's also crucial to purchase securement components from a single manufacturer to ensure all the parts work together as they should.
To help you make an informed decision, be sure to consider the following as you shop for securements or a wheelchair-accessible vehicle:
The wheelchair's size
The type of wheelchair
The occupant's weight
The securement's usability
Your budget
If you're not sure what's right for you or your passenger, feel free to ask a Mobility Specialist for their professional recommendation.
What Is the Best Way to Secure a Wheelchair?
How do you secure a wheelchair in a van or another accessible vehicle? Once you have a wheelchair securement system, it helps to know a few tie-down tips before you hit the road. This way, you can have a safe and smooth ride.
Here are best practices to keep in mind:
Only use wheelchairs labeled as "transport safe."
With a tie-down system, secure the wheelchair with two straps in the front and two in the back.
Fasten front tie-downs first, pulling the wheelchair back to tighten any slack.
Always attach securements to the wheelchair's frame, which is the strongest part of the wheelchair.
Don't twist or cross tie-down straps.
Secure the wheelchair in a forward-facing position, which is the safest position for the passenger.
Ensure the wheelchair can't move forward or backward once locked into place.
Set the wheelchair's brakes, ensuring the power is off before driving.
Check that the wheelchair user wears a lap and shoulder belt with every ride.
Make sure occupant restraints fit snugly.
As a general rule, it's best to follow the manufacturer's guidelines on how to restrain a wheelchair for the specific model. You'll also want to follow the securement system's guidelines to ensure maximum safety.

Contact Our Mobility Specialist to Find Your Best Option
If you're still unsure what securement system is your best option, we're here to help at Freedom Motors. Since 1987, we've been producing a wide variety of wheelchair-accessible vehicles, including minivans, SUVs and even small cars. We'll consider your unique needs and recommend the best securement system for you or provide a customized solution, always putting safety first. To learn more about our accessible vehicles, browse our Handicap Vehicles For Sale or contact us today!