We Love This Wheelchair Vehicle for Taxi and Rideshare Drivers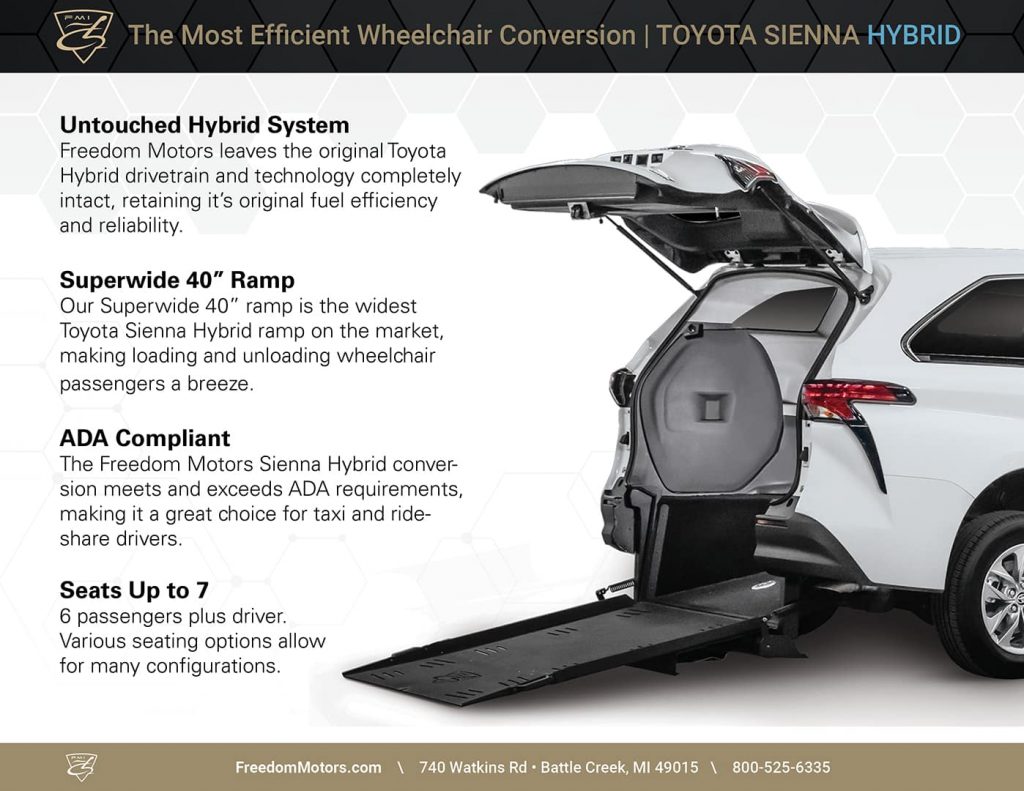 With 57,642 vehicles sold, the Toyota Sienna Hybrid was the best selling minivan of 2021 by over 10,000 units (the Chrysler Pacifica/Voyager line came in second, selling 47,571). 
This comes as no surprise to those familiar with the 2021 redesign of the Toyota Sienna. Switching to an ultra-efficient hybrid drivetrain that gets a whopping 36 combined mpg and featuring a complete redesign inside and out, the 2021 Toyota Sienna Hybrid is miles ahead of its previous iterations.
All of this, combined with its roomy interior and premium cabin experience make the Toyota Sienna Hybrid a great wheelchair accessible vehicle. Even better, Freedom Motors USA has elaborated on the industry's first accessible Sienna Hybrid to create a half-cut version perfect for taxi and rideshare drivers.
The Accessible Toyota Sienna Hybrid for Taxi and Rideshare
The full and half-cut conversion from Freedom Motors both feature a Superwide 40" ramp that makes it easy for wheelchair passengers to enter the vehicle, even with larger wheelchairs.
Both offer flexible seating configurations that can be switched up on the fly, allowing drivers to fit various configurations of ambulatory and wheelchair passengers. The half-cut conversion allows for the second-row OEM bench to be remounted, providing seating for up to 7 – 6 passengers plus the driver.
Read More
Freedom Motors takes care to leave vehicles as close to their OEM specifications as possible when converting them for wheelchair use. The Sienna's hybrid drivetrain is left completely untouched and the batteries remain in their original position, allowing the vehicle to retain its fuel efficiency and reliability. The dashboard and center console also remain completely intact, providing the full premium cabin experience of the 2021 Toyota Sienna.
Find the Right Accessible Vehicle for Your Taxi and Rideshare Service
There are options available for those who need a wheelchair accessible taxi vehicle but don't want a van. Check out full and half-cut conversions of the Kia Telluride, Chevrolet Traverse and more available from Freedom Motors.
Read More

7 Popular Wheelchair Accessible Taxi and Rideshare Vehicles

Is a Wheelchair Accessible Van or SUV Better for Your Needs?
About Freedom Motors USA Wheelchair Accessible Vehicles
Why buy your wheelchair accessible vehicle from Freedom Motors USA? It's simple. Freedom Motors is family-owned and has been creating accessible vehicle conversions since 1987, making us one of the first companies in the industry. We have experience getting our customers what they need.
Don't know where to start?

Our team of Mobility Specialists will work with you to help find the vehicle that best suits your needs.

Shop from Home –

Freedom Motors will come to you anywhere in the country

to provide a demonstration

of any of our wheelchair conversions.

Exclusive Stock –

Shop our expansive list of

Wheelchair Accessible SUVs

that you won't find anywhere else in the mobility industry, including the Buick Enclave, Chevrolet Traverse, Kia Sorento, Kia Soul, Kia Telluride and Honda HR-V.

Hybrid Vehicles –

Check out the industry's first

Toyota Sienna Hybrid Wheelchair Van

wheelchair-accessible conversion, with a no-charge hybrid drivetrain making it the most efficient wheelchair van on the market.

Premium Features –

Freedom Motors conversions offer top-of-the-line features, like the automatic rear-entry ramp or our full and half-cut options that allow for more passenger seating options.

Superwide Ramps –

Freedom Motors offers the widest ramps in the industry that you won't find anywhere else, including the

Superwide 40" Dodge Grand Caravan

and the

Superwide 48" Toyota Sienna

.

Dedicated to Keeping You Moving –

Contact us today

and we'll work with you to find the right vehicle for you.