We Love this WAV for Wheelchair Drivers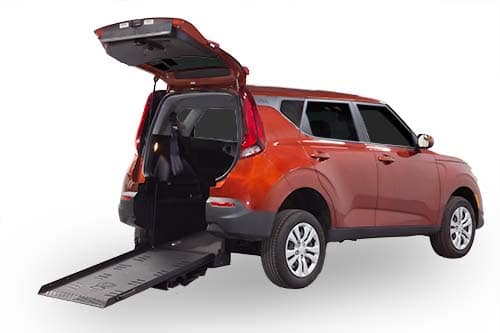 For wheelchair users who want a more independent lifestyle, it can be hard to find a handicap vehicle for sale they can drive. Many handicap vehicles are configured in a way that puts wheelchair users as passengers toward the rear of the vehicle.
Thankfully, options like power transfer seats and automatic ramps have made it much easier to find a vehicle for wheelchair drivers. Even better, these options are available on a wide variety of vehicles, meaning side-entry vans aren't the only option on the market anymore.
At Freedom Motors USA, we think the wheelchair accessible Kia Soul is one of the best accessible vehicles on the market for wheelchair drivers right now. Let's take a look at some of the features that make it so great for independent wheelchair users.
Compact Size is Great for City Driving
Although the Kia Soul has gone through several design changes since its appearances in those hamster filled ads, its core design philosophy has stayed the same. The Soul has remained incredibly compact all while retaining its fun personality and switching to a sportier look over the years.
The Kia Soul's compact profile sets it apart from other wheelchair accessible vehicles. Traditionally, wheelchair vans are often big, bulky and hard to maneuver beasts that can make driving a challenge. The Soul takes a totally different approach, with its small size and short wheelbase making it easy to turn and the best choice for navigating crowded parking lots. That's not to mention the Soul's great gas mileage — the Soul gets an average 31 mpg, compared to the Dodge Grand Caravan's 20 mpg.
Enter and Exit Without a Caretaker
A wheelchair accessible vehicle is a great way for those with wheelchairs or other mobility aids to gain more independence and freedom. For those who want to travel without a caretaker, an automatic ramp conversion can make a huge difference.
Manual ramps can be difficult for wheelchair users to operate by themselves, simply because of how high the handle of the ramp is located. Once inside the vehicle, the wheelchair will be facing away from the ramp — making it almost impossible to access the ramp at all.
An automatic ramp solves this problem easily by allowing the ramp to be raised and lowered with the touch of a button. Along with other accommoda
tions, this allows wheelchair passengers to drive completely independently.
Read More:
Guide to Wheelchair Ramps in Handicap Converted Vehicles
Accommodations to Fit Your Needs
Along with an automatic ramp, the Kia Soul can be customized with various accommodations to suit your needs.
A power transfer seat can be fitted in the driver or passenger bucket seats, allowing wheelchair users to transfer themselves from their wheelchair directly into the front row. Combined with an automatic ramp, this set up provides optimum independence for a self-driver.
For drivers who can't operate the pedals, hand controls can be fitted to allow complete operation of the vehicle without using the pedals at all.
Freedom Motors has a team of Mobility Specialists on call and ready to help find a vehicle that's perfect for you. Contact us today and we can help find a vehicle that perfectly suits your needs.
About Freedom Motors USA Wheelchair Accessible Vehicles
Why buy your wheelchair accessible vehicle from Freedom Motors USA? It's simple. Freedom Motors is family-owned and has been creating accessible vehicle conversions since 1987, making us one of the first companies in the industry. We have experience getting our customers what they need.
Don't know where to start?

Our team of Mobility Specialists will work with you to help find the vehicle that best suits your needs.

Shop from Home –

Freedom Motors will come to you anywhere in the country

to provide a demonstration

of any of our wheelchair conversions.

Exclusive Stock –

Shop our expansive list of

Wheelchair Accessible SUVs

that you won't find anywhere else in the mobility industry, including the Buick Enclave, Chevrolet Traverse, Kia Sorento, Kia Soul, Kia Telluride and Honda HR-V.

Hybrid Vehicles –

Check out the industry's first

Toyota Sienna Hybrid Wheelchair Van

wheelchair-accessible conversion, with a no-charge hybrid drivetrain making it the most efficient wheelchair van on the market.

Premium Features –

Freedom Motors conversions offer top-of-the-line features, like the automatic rear-entry ramp or our full and half-cut options that allow for more passenger seating options.

Superwide Ramps –

Freedom Motors offers the widest ramps in the industry that you won't find anywhere else, including the

Superwide 40" Dodge Grand Caravan

and the

Superwide 48" Toyota Sienna

.

Dedicated to Keeping You Moving –

Contact us today

and we'll work with you to find the right vehicle for you.