Tips For Using A Wheelchair In Winter Weather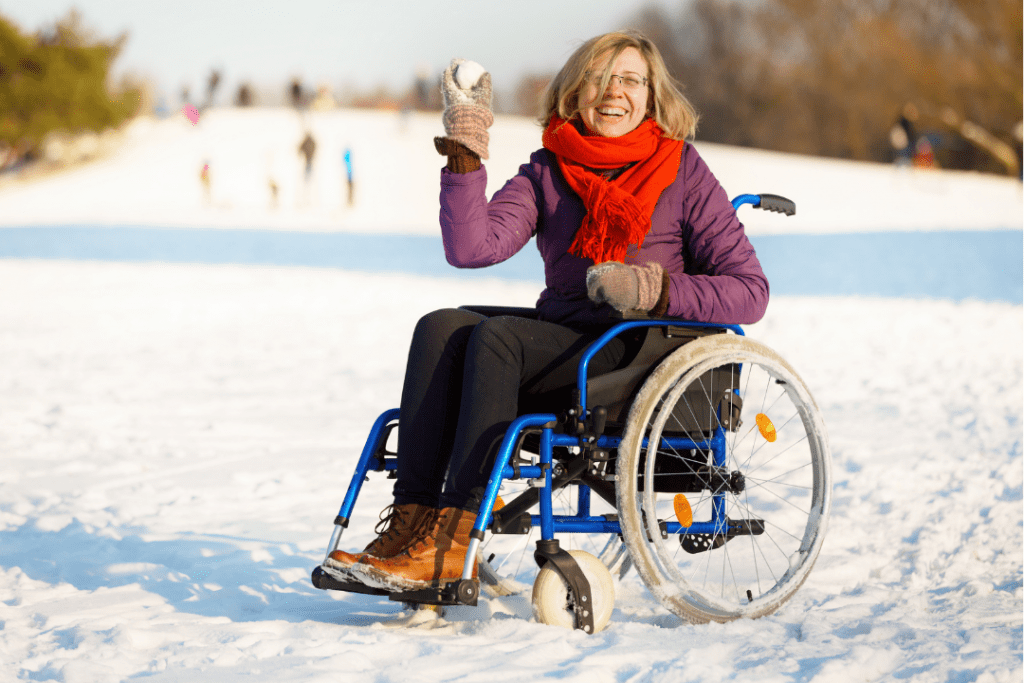 The holiday season is in full swing, and with it comes nasty winter weather. Those of us who live in colder climates are all too familiar with the challenges that snow and ice bring with them each year.
For those who require mobility aids like a wheelchair or walker to get around, these challenges can feel like huge obstacles even when just trying to complete day-to-day activities. While you may not be able to control the weather, there are some steps you can take to help you navigate this year's winter wonderland.
Get Your Wheelchair Ready for Snow and Ice
Both manual and powered wheelchairs are going to have a hard time gaining traction on snowy, icy or wet surfaces. For manual wheelchair users, this can mean getting where you need to go can be exhausting. Powered wheelchairs with low-traction can result in batteries draining very quickly. 
For both manual and powered wheelchairs, snow tires can be fitted to help maintain traction in bad weather. If you don't have access to snow tires, the United Spinal Association has some helpful tips for how to modify your wheelchair at home. 
You can also modify more than just your wheelchair's tires. Try using pipe insulation on a manual wheelchair's metal push-rims to help keep your hands warm. If your powered wheelchair doesn't have a waterproof controller or joystick, try placing a plastic bag over it to protect your wheelchair's controls from melting snow. 
Plan Ahead for Bad Weather
If you don't have the means or the ability to modify your mobility aid for the snow, that's okay! There are steps you can take to help traverse snowy weather without needing to make any changes to your mobility aids.
When driving, planning ahead and allowing for extra time to get to your destination can help you park closer to where you need to go and reduce time spent outside in the cold. With a rear-entry wheelchair accessible vehicle, parking next to a curb allows you to deploy your ramp directly onto it and avoid navigating potentially treacherous parking lots. 
For those who use a powered wheelchair, make sure to fully charge your batteries before leaving the house. Cold weather will diminish your batteries more quickly, and slippery conditions will require more power to navigate. Make sure to plan ahead so you don't run out of power on an outing.
Make sure your wheelchair accessible vehicle keeps a full tank of gas in case of emergency; and the tires are inflated to the proper cold weather PSI. If your current handicap van doesn't perform well on slick or icy roads, read about 3 Wheelchair SUVs for Winter Driving.
Use the Buddy System
If you're ever worried about how your trip might go, you don't have to go alone. A friend or caregiver can help you navigate any obstacles you might have a hard time facing by yourself.
Even for those who live independently, letting friends in the area know where you're going can ensure that someone will be able to help you get where you need to go safely.
About Freedom Motors USA Wheelchair Accessible Vehicles
Why buy your wheelchair accessible vehicle from Freedom Motors USA? It's simple. Freedom Motors is family-owned and has been creating accessible vehicle conversions since 1987, making us one of the first companies in the industry. We have experience getting our customers what they need.
Don't know where to start?

Our team of Mobility Specialists will work with you to help find the vehicle that best suits your needs.

Shop from Home –

Freedom Motors will come to you anywhere in the country

to provide a demonstration

of any of our wheelchair conversions.

Exclusive Stock –

Shop our expansive list of

Wheelchair Accessible SUVs

that you won't find anywhere else in the mobility industry, including the Buick Enclave, Chevrolet Traverse, Kia Sorento, Kia Soul, Kia Telluride and Honda HR-V.

Hybrid Vehicles –

Check out the industry's first

Toyota Sienna Hybrid Wheelchair Van

wheelchair-accessible conversion, with a no-charge hybrid drivetrain making it the most efficient wheelchair van on the market.

Premium Features –

Freedom Motors conversions offer top-of-the-line features, like the automatic rear-entry ramp or our full and half-cut options that allow for more passenger seating options.

Superwide Ramps –

Freedom Motors offers the widest ramps in the industry that you won't find anywhere else, including the

Superwide 40" Dodge Grand Caravan

and the

Superwide 48" Toyota Sienna

.

Dedicated to Keeping You Moving –

Contact us today

and we'll work with you to find the right vehicle for you.