How to Maintain Your Wheelchair Accessible Vehicle this Winter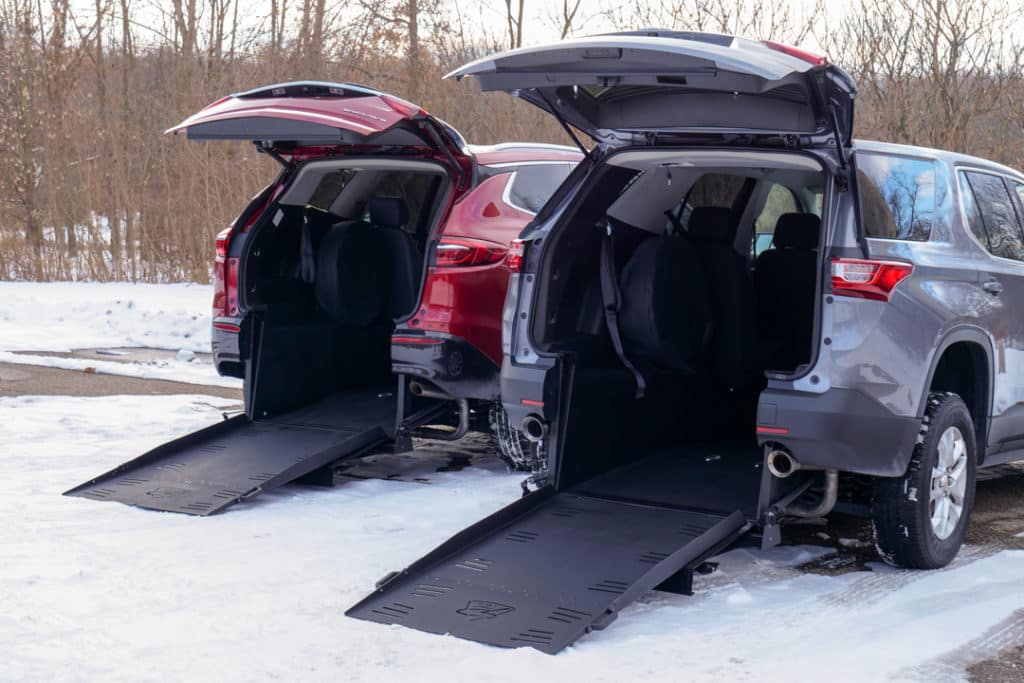 Winter is coming, and it brings many challenges for our vehicles with it. Those of us in colder climates know the wear and tear that ice, snow and road salt bring can wreak havoc on our cars if they aren't properly taken care of.
When it comes to maintaining a vehicle that's been converted for wheelchair accessibility, there are a few extra steps you may need to take. Although a lot of the routine maintenance is the same, there are a few extra things to look out for this winter to make sure your conversion is in tip-top shape for many miles (and winters) to come.
Maintaining Your Wheelchair Conversion this Winter
During the winter months, ice, snow and road salt can build up on the outside of your car. It's important to check for debris buildup and clear it before it becomes an issue. Check your wheel wells (the area around your tires) and knock out any snow buildup with an ice scraper or snow shovel as best as you can.
It's also important to keep this debris from building up on your wheelchair conversion. Before going out, take a moment to test the ramp and inspect the moving parts for any dirt or debris that might interfere with or damage the ramp's operation. On manual ramps, check the springs that assist the operation of the ramp. On automatic ramps, check the hydraulic devices that operate the ramp.
It's important to keep these parts clean, as they'll ensure you can get the most use out of your ramp for years to come.
In the spring, make sure to give your vehicle a wash, especially any parts of the conversion. This will help wash away any remnants of road salt on the vehicle, which is very important to preventing rust from forming. Road salt build up is very harsh on any metal parts of your vehicle, and the resulting rust can take years off of your vehicle and conversion life span.
Checking Your Handicap Vehicle's Battery and Tires
While maintaining a healthy battery and tires is a good idea year-round, it's especially important during the winter. The cold weather puts extra stress on both, and tires that are well-worn can become dangerous to drive in wet and snowy conditions.
Checking the Battery
If you drive a vehicle with an automatic rear-entry conversion, it's even more important to maintain your vehicle's battery. Because the automatic ramp uses your car's battery to operate, it puts extra stress on the system and could stop working if it's not properly maintained.
While checking your vehicle's battery at home is possible with a specialized tool such as a multimeter, having a full battery check up by a professional is preferable. Trained battery technicians will test for additional metrics for a complete view of the battery's health. Many auto repair zones offer free battery testing services; and many will charge your battery for free.
A good rule of thumb to help maintain your vehicle's battery life is to not let your vehicle sit for too long without being started. Even just starting and running your car while it's parked every few days can prevent your battery from being drained.
If your handicap vehicle has an automatic ramp and will be sitting idle for more than a month, the fuse for the ramp operation can be disconnected to prevent power being drawn from the battery. Consult your Freedom Motors USA Vehicle Owner's Manual for more information.
Checking the Tires On Your Wheelchair Vehicle
There are two important things to check on your tires: tread depth and tire pressure. Both play an important role in keeping your vehicle on the road during wet, snowy or otherwise hazardous driving conditions. Luckily, both are very easy to check right from home. Many mechanics will even check these for free.
Tire treads can be measured using a tire tread depth gauge, which will give you a reading of how deep your treads are. If your tire's treads are 4/32 of an inch or shallower, it is time to replace your tires. Anything below 2/32 of an inch is too worn, unsafe, and needs to be replaced immediately.
Alternatively, if you have a penny, you can get a rough estimate. Simply take a penny and place it with Lincoln's head down toward the center of the tire in between the treads. If your treads do not cover the top of Lincoln's head, they're likely below 2/32 of an inch and need to be replaced immediately.
To check the tire pressure, you can purchase a tire pressure gauge to accurately check your tire pressure from home. These gauges are typically inexpensive and easy to use. The recommended inflation PSI for your vehicle is located on a label located on the inside door jam of the driver's door. Using the tire pressure gauge, check each tire's pressure and compare against the recommended PSI.
Note: The PSI located on the tire itself is the maximum pressure that tire can withstand. It is the not the recommended PSI for driving and should not be inflated to that pressure.
About Freedom Motors USA Wheelchair Accessible Vehicles
Why buy your wheelchair accessible vehicle from Freedom Motors USA? It's simple. Freedom Motors is family-owned and has been creating accessible vehicle conversions since 1987, making us one of the first companies in the industry. We have experience getting our customers what they need.
Don't know where to start?

Our team of Mobility Specialists will work with you to help find the vehicle that best suits your needs.

Shop from Home –

Freedom Motors will come to you anywhere in the country

to provide a demonstration

of any of our wheelchair conversions.

Exclusive Stock –

Shop our expansive list of

Wheelchair Accessible SUVs

that you won't find anywhere else in the mobility industry, including the Buick Enclave, Chevrolet Traverse, Kia Sorento, Kia Soul, Kia Telluride and Honda HR-V.

Hybrid Vehicles –

Check out the industry's first

Toyota Sienna Hybrid Wheelchair Van

wheelchair-accessible conversion, with a no-charge hybrid drivetrain making it the most efficient wheelchair van on the market.

Premium Features –

Freedom Motors conversions offer top-of-the-line features, like the automatic rear-entry ramp or our full and half-cut options that allow for more passenger seating options.

Superwide Ramps –

Freedom Motors offers the widest ramps in the industry that you won't find anywhere else, including the

Superwide 40" Dodge Grand Caravan

and the

Superwide 48" Toyota Sienna

.

Dedicated to Keeping You Moving –

Contact us today

and we'll work with you to find the right vehicle for you.