How Do You Get a Handicap Sticker?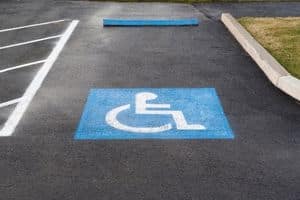 Close to 26 million Americans report living with travel-limiting disabilities. For many of these people, the simple act of getting in their car or van and driving to the grocery store can become overwhelming, especially if they are required to walk or operate wheelchairs over long distances from their parked vehicles to their destination. Without access to handicap parking spaces, there are millions of people across the country who could become housebound, losing their self-reliance and ability to live independently.
If you or a loved one have difficulty getting to school, work, doctor appointments, the pharmacy, grocery store, or running errands due to a disability or health concern that limits mobility, accessible parking is probably high on your list of must-haves.
Fortunately, the federal Americans With Disabilities Act (ADA) requires businesses to remove access barriers for disabled citizens whenever feasible. Designating a number of parking spaces for accessible parking is one of the easiest and most cost-efficient ways for businesses and property owners to fulfill ADA requirements.
While it's great that more handicap parking spaces are being designated every year, being able to park in one of these spaces is not a foregone conclusion. Anyone who wants to take advantage of handicap parking needs to first obtain the appropriate government-issued parking sticker.
As someone or the loved one of someone living with limited mobility, obtaining a handicap parking sticker — also commonly referred to as a disabled car sticker, a disabled decal, a handicap stickers decal, a handicap placard, a handicap car sign, or a disabled car permit — is not a maybe, it's a necessity. Knowing how to obtain one can make the difference between retaining independence and being stuck at home with limited alternatives.
This article offers a guide for how to get a handicap pass. It sets forth important information and offers detailed answers to your most pressing questions. Topics covered include:
What is a Handicap Sticker?

Who is Eligible for

Handicap Decals

?

How Do You Get a Handicap Sticker?

How to Apply for

Disabled Car Stickers

Where Can I Use

Disabled Decals?
What is a Handicap Sticker?
If you have spent any time in a parking lot or facility in the U.S., chances are you've seen government-issued handicap parking permits. Typically, they are in the form of a laminated or plastic placard that hangs from a car or van's rear view mirror. Some handicap parking permits come in the form of motor vehicle license plates.
Regardless of what form, the plate or placard is specifically designed for display in cars operated by or on behalf of people with limited mobility. Most display a version of the International Symbol of Access (ISA). The familiar line drawing of a person in a wheelchair is a symbol used for almost all special parking permits. Typically, the symbol will be white on a blue background and will have an identification mark from the issuer, a unique ID number, and show the date of expiration.
The purpose of these permits is to allow a car or van to park in a dedicated handicap spot near the entrances of public and private facilities. Often, these parking spaces are wider than usual to allow people operating wheelchairs and other mobility assistance devices to enter and exit the vehicle safely in areas near wheelchair access ramps and curb cuts that facilitate sidewalk access.
Who is Eligible for
Handicap Decals
?
Each state has a Department of Motor Vehicles (DMV) or similar agency that issues handicap decals or plates to eligible citizens, typically people with mobility impairments or other health issues.
Each state adopts its own rules regarding the issuance of handicap stickers. Often, the recipient will display difficulties or the inability to walk absent assistance. Examples include:
Walking cane

Leg or foot brace

Walker

Wheelchair

Motorized scooter

Crutches

White canes for the visually impaired

Seeing eye dog
Not all medical conditions that cause disabilities are so readily apparent, however. Mobility issues can also be the result of conditions like:
Arthritis

Traumatic brain injuries

Back injuries

Spine injuries

Cancer and cancer treatments

Recent surgeries

Seizure disorders
If you are unsure whether you or a loved one are eligible for a handicap sticker in your jurisdiction, contact your motor vehicles department or your healthcare provider.
How Can I Get a Handicap Sticker
?
So, how do you get a handicap sticker? Generally speaking, the first step in procuring a handicap plate or placard entails talking to your primary healthcare provider. Your PCP will be familiar with your local handicap sticker requirements and will be able to advise you on whether or not they think you qualify. If you do qualify, your PCP will fill out the documentation that your local government requires and either provide that paperwork to the relevant administering officials directly or give the forms for you to provide with your application.
Handicap parking permits can be designated either temporary or permanent. Temporary permits may be used for someone who just had surgery or who has a broken leg or hip, for instance. These will have an expiration date, typically six months or so. You can usually renew them with physician approval.
Permanent permits are for the long-term. Common examples of when a permanent permit would be issued are if you have chronic health concerns like arthritis or a permanent disability or mobility problem. Even permanent permits need to be renewed every few years, however, so it's important to keep an eye on your expiration dates so you don't forget to send in the renewal on time.
How to Apply for
Disabled Car Stickers
The process for how to get a handicap pass will depend on where you live and the handicap decal regulations in your area. Procedures can vary from state to state, county to county, and even city to city. Applying for a handicap sticker in your locality is similar to applying for a driver's license, meaning it's your responsibility to ensure that you meet the requirements and fill out all the necessary paperwork that proves you are eligible for the special handicap parking permit.
Depending on the rules set up by your local motor vehicles department, you will typically fill out an official application — usually you can find the handicap parking application on the DMV website or pick one up at the nearest DMV office — and submit it either in person or online.
Sometimes a nominal fee is required to accompany the application, typically $20 or less. If approved, the DMV will usually send your handicap placard to you through the U.S. Postal Service.
Where Can I Use
Disabled Decals
?
First, it's important to understand that the handicap placard you receive is for your own personal use when you are driving or riding in a motor vehicle. While you do not have to be the driver of the vehicle — you can be the passenger — you do need to be present in the vehicle when your handicap parking deal is being displayed. But as long as you accompany the accessibility sticker, you can use it in any vehicle, whether or not you own it or are operating the car or van yourself.
If you're caring for a loved one, the handicap placard is meant for their use only. This means you can't use it for yourself – your loved one must be in the vehicle. This also means that you should never let someone else borrow your handicap parking sign, even if they are driving somewhere on your behalf.
Not only does this type of abuse of the handicap parking privilege reduce the amount of available parking left for the people who really need it, but it can also result in your permit being canceled. In some instances, depending on your community's laws and how aggressive local police are in enforcing the laws, you could even be subject to a heavy fine or other penalties for misuse of a government-issued handicap sticker.
As long as you or your loved one are present in the vehicle, you can use the handicap sticker to park in the spaces specifically designated for handicap vehicles, including uncovered spaces in a parking lot that are closest to a building and have a handicap designation or specially-marked garage parking spaces close to elevators.
Just because you are using a handicap sticker doesn't mean you are entitled to park for free. Some metered spaces allow cars displaying the handicap stickers to park without having to pay, but it's important to carefully read the signage for each lot as the rules can differ from lot to lot and even from parking spot to parking spot. Most garages that charge for parking will require you to pay regardless of whether or not you have a disabled car sticker.
It's also important to note that an accessible sticker only applies to designated handicap parking spots. If there are no handicap spaces available, you cannot park in designated no parking areas — like loading zones or near dumpsters — or in spaces reserved for law enforcement or private parties. The disabled parking permit allows you to park in available handicap spaces, and that is all.
If you plan on traveling out of state, you will most likely be able to use your handicap card sign during your travels, but that is not guaranteed. It is always a good idea to check with the motor vehicles department in the state you are visiting before you try to park using an out-of-state disability sticker.
Fines for parking in handicap spots without a valid permit can be hefty and it's not worth taking the chance of running afoul of the law. It's worth making a quick phone call to make sure your handicap sticker decal will be honored in places outside the state where it was issued.
Enhance Accessibility with Freedom Motors
While securing handicap sign stickers is an important part of maintaining mobility and independence, it doesn't stop there. Getting the right handicap accessible vehicle for your circumstances — whether it's a rear-entry accessible SUV, or a converted hybrid, minivans or crossovers — will greatly enhance your ability to move freely and enjoy independence.
Freedom Motors not only offers the largest and most reliable collection of wheelchair accessible vehicles in the country, we customize our vehicles to meet each customer's unique specifications.
Contact us to learn more about how Freedom Motors can enhance accessibility for you.