Freedom Motors USA Donates Customized Vehicle To Detroit Family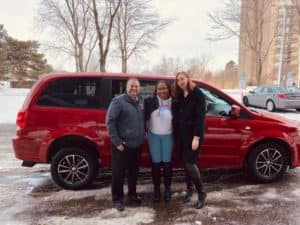 It was just a normal evening in June 2019 for a Detroit family when an unexpected, unexplainable tragedy occurred. After picking up a pizza for her family's dinner, Diane Brathwaite pulled into a gas station so her son, 13-year-old Damarian Johnson, could buy a soft drink. While in the store, a man began firing a gun, hitting Damarian in the head.
In an instant of random violence, Damarian went from being a normal teenager – love of football, good student, popular with friends and a loving brother – to suffering devastating injuries.
Five surgeries later, Damarian is non-verbal and confined to a wheelchair; and frequently has painful leg and muscle spasms. Though his mother Diane sees improvements thanks to his doctor visits and physical therapy, progress is slow. Keeping appointments is important but difficult because medical transport companies are unreliable and at times the family has been left stranded.
Local 4 Seeks Donations For Family
Diane had kept in touch with Detroit TV station Local 4 WDIV-TV since the shooting. She reached out about her frustrations to her Local 4 contact who put Diane in touch with Hank Winchester, Consumer Investigative Reporter, and the Help Me Hank team who contacted local organizations for donations.
When the management team at Freedom Motors USA was contacted about a donation, everyone immediately knew they wanted to help. Freedom Motors was one of the first to respond, following their mission of helping people get where they need to go by providing wheelchair accessible vehicles.
Customized Van Presented
On January 24, 2020, Freedom Motors USA Sales Manager Justin Lerette presented a 2014 Dodge Grand Caravan that had been customized specifically for Damarian and Diane's needs, including a rear entry ramp.
As Justin told Local 4, "The name Freedom Motors USA means more than a company name. It's really giving the customers and clients back their freedom to go and do the things they love."
Not only does this accessible van remove a barrier in Damarian's path to recovery, the vehicle also allows the family to go on trips and outings together.
Freedom Motors USA was not the only organization to respond to the call for help. Meteorologist Paul Gross is a member of Detroit Goodfellows, a local philanthropic group, who stepped in with boxes of clothes, toys, and books for Damarian and his siblings.