Can You Make an SUV Wheelchair Accessible?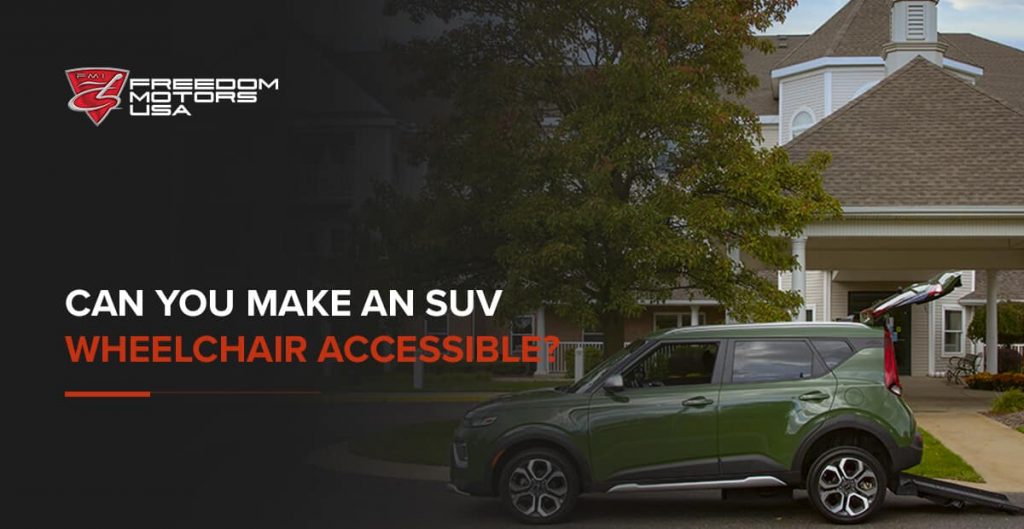 If you or someone you love suddenly needs a wheelchair to get around, the way you go about your daily routine will undergo some changes. One of those changes will be your vehicle. You will need a vehicle that will accommodate you and your needs. And you'll be interested to know that Freedom Motors can help you convert your vehicle into a wheelchair accessible vehicle. In fact, we have been producing quality wheelchair accessible vehicles since 1987.
Can You Convert Your Own Vehicle?
At Freedom Motors, we can convert a number of vehicle makes and models to wheelchair accessible vehicles. While we do have a variety of vehicles for sale that are already wheelchair accessible, we would love to work with you to get your current vehicle converted with everything you need.
When it comes to features to add to convert your SUV, there are some different options. The features you need will be based on what you require to be able to function from day to day.
Ramps. While stores, restaurants and other public places are required to provide wheelchair accessibility, you will have to make sure your vehicle is equipped with the necessary pieces so you and your wheelchair can enter and exit the vehicle as needed. A ramp can be added to either a side or the rear of a vehicle for easy access.
Power Transfer Seats. A power transfer seat allows a wheelchair user who is able to transfer independently to drive. A power transfer seat puts the OEM first row captain's chair on a track that allows the chair to be moved forward and backward via a remote.
Seating Options. Depending on the make and model of the SUV, there are a variety of seating options for the front positions as well as the mid-row and third row. There are options available to suit almost any family's needs when it comes to accessible vehicle seating.
If you need some or all of these features when converting your vehicle, Freedom Motors can definitely do that for you!
Conversion Types
There are two types of conversions. Let's take a look at the details of each.
Full-cut conversion. A full-cut conversion usually reaches from the back of the car to just behind the driver and passenger seats. This conversion will add more wheelchair space inside the vehicle, and the ramp extends farther back, which means there will be plenty of room for passengers. Depending on the size of the SUV and wheelchair, you may even be able to fit a second wheelchair in there. A full-cut conversion is going to be more for those with limited mobility who will still be driving via a seat transfer. A full-cut conversion also allows for the wheelchair user to be in the second row with the rest of the family.
Half-cut conversion. A half-cut conversion will usually reach from the back of the vehicle to behind the second row of seats, rather than the first. This conversion won't take up too much space so seating for passengers will be pretty traditional. Those with limited mobility who want to continue to drive themselves will not desire a half-cut conversion.
Both conversion types are great options. As always, the route you take depends on what you and your loved ones need out of the vehicle.
I Have a Vehicle that I'd Like to Add a Ramp To. Is that Possible?
You can purchase a vehicle that already includes a ramp, but to make things simpler for you, Freedom Motors can also install a ramp to your current vehicle. The type of ramp and details depend largely on what you need. Let's take a look at the different options.
Rear-Entry Ramp. Rear-entry ramps will obviously be installed at the rear of your vehicle. It can be automatic or manual, and this ramp option is typically more budget-conscious. Additionally, when it comes to parking, the rear-entry ramp ensures that you will have room to open the ramp and get in and out of your vehicle, rather than having to worry about no available handicapped parking spots or bad parking jobs eliminating the space you need. The rear-entry ramp doesn't eliminate the room in the back of the SUV, so you'd still have room for extra passengers. Sometimes there is even room for two wheelchairs if that is something you may need. If you have a wider wheelchair or just need some extra space, a rear-entry wheelchair is great for your vehicle because it can be up to 48 inches in width. However, if you have a rear-entry ramp, you have to be wary of parallel parking areas, as this doesn't allow you the room you need to load and unload.
Side-Entry Ramp. The side-entry ramp is great for those who have limited mobility but are still able to drive themselves. This ramp allows them to enter via the side ramp and move into the driver's seat or position their wheelchair in front of the steering wheel, and it can also be installed as automatic or manual. With the side-entry ramp, there is a flexibility with the placement of the wheelchair during travel. However, a side-entry ramp has the potential to be a little more expensive than the alternative. Additionally, for a normal parking lot, you will have to find a parking space that will give you the necessary amount of room beside your vehicle to enter and exit, but if you do a lot of parallel parking, this ramp is great. The size of the side-entry ramp is a smaller than the rear-entry, as it is typically 28.75 inches or 30 inches, depending on the vehicle model. Side-entry conversion are typically more expensive due to amount of body work the conversion requires. And, since the side entry ramp uses more components and mechanical features, it requires more maintenance and repairs.
Automatic Ramps. An automatic wheelchair ramp will be powered by a hydraulic motor, which means no one has to worry about physically folding and unfolding the ramp each time you make a stop. This ramp can be installed during the conversion process for the vehicle, and it is operated by a remote control. The ramp is stored  upright against the door when not in use. There are fold-out ramps that come with handrails, but this option takes up more space.
Manual Ramps. A manual wheelchair ramp is typically the cheapest option when it comes to purchase and maintenance. You can have a manual ramp installed as a rear-entry or a side-entry. Since Freedom Motors' manual ramps utilize springs, little effort is required for easy storage or deployment. A loved one or caretaker will be needed to manually fold and unfold the ramp each time.
Freedom Motors can certainly add a ramp to your vehicle for you, and it will be our pleasure to discuss your needs and help you determine which ramp will serve you best.
How Wheelchair Accessible SUVs Work
Depending on the type of ramp you or your loved one chooses, the previous descriptions of ramps should give you an idea of how those work and how someone in a wheelchair will enter and exit a vehicle.
If you or your loved one is able or desires to drive themselves, it is definitely possible, even if you have very limited mobility in your legs and feet. There are hand controls that can be added to your vehicle to help you continue driving despite any limitations you've been given. There are many different kinds of hand controls for disabled drivers, and they allow you to control the gas and brake pedals without the use of your feet. If you're wanting to get back into driving, you should definitely explore your options when it comes to hand controls.
Another thing you may be wondering about is how you or your loved one will transfer to the driver's seat. Well, there are a couple options there as well.
Power Transfer Driver and Passenger Seats. These seats are typically available for rear-entry ramp vehicles. The disabled person enters the vehicle as normal, and using a remote, the front seat slides back into the second row of seats, which puts it beside the wheelchair. Then, he or she can transfer over to the driver's seat and use the remote to slide back in front of the wheel. If you pair these seats with an automatic ramp, it is the perfect setup for you to drive yourself.
Driving from a Wheelchair. Typically in a side-entry ramp, the seats have the ability to be removed and reattached. With this capability, the driver's seat can be removed and the disabled person can drive without ever leaving their wheelchair.
At Freedom Motors, we want to help you create or find the perfect vehicle to accommodate any disabilities you or a loved one might have. There are so many different combinations of additions we can add to your vehicle. With the help of our team of experts, we can go over all of your options and determine everything you need to be able to get from place to place safely.
The Best Wheelchair Accessible SUVs on the Market Right Now
At Freedom Motors, we have it all! While we can work with you to create the perfect wheelchair accessible vehicle for you from the vehicle you already own, we can also offer you vehicles that already have the additions. Here are some of the SUVs we have to offer.
These are just a handful of the vehicles we have to offer you. You can see that the biggest difference between vehicles is the width of the ramp, which is extremely important because not all wheelchairs are the same size. If you decide to shop for a new vehicle, you'll want to know what size ramp you need for your specific wheelchair.
Choosing Freedom Motors
At Freedom Motors, we want to make sure you have everything you need to safely travel from place to place with your wheelchair. We can work with you to find the perfect fit, whether that's an SUV that's already been converted or converting your SUV.
Our vehicles with new conversions have a 36 month/36,000 mile conversion warranty. You can also check the availability, get pre-approved, value your trade-in and schedule a test drive right on our website for each vehicle. If you want to learn more, check out our blog for everything wheelchair accessibility.
If you're ready to get started with a wheelchair accessible SUV, you can fill out the form on our website or give us a call at (866) 400-6055. Let us convert your vehicle today!
Sources: