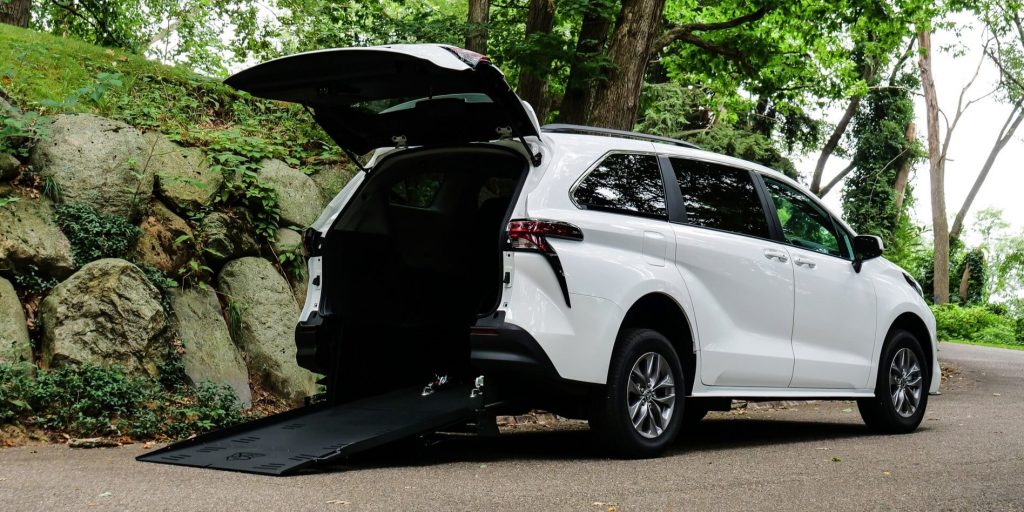 The Right Fit For Your Business
Board and Disembark your clients in the most comfortable way for both
Can withstand up to 800 lbs
Super durable heavy-duty powder coating paint
Place the front two wheels in the antler, use the rail to secure the stretcher and your patient is ready to ride safely.
Removing the antler and rail securement system is easy and allows for:
up to two wheelchair passengers and
five ambulatory passengers in mixed configurations.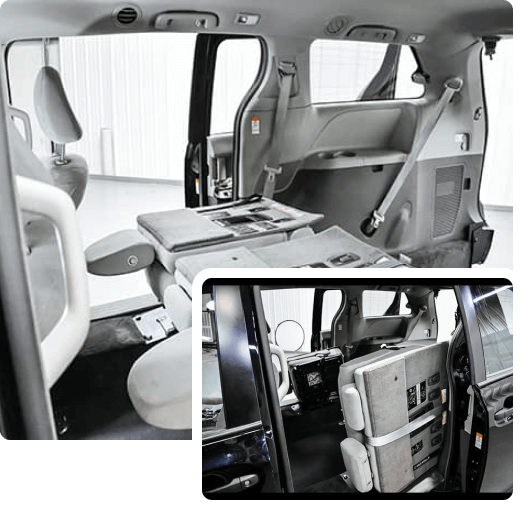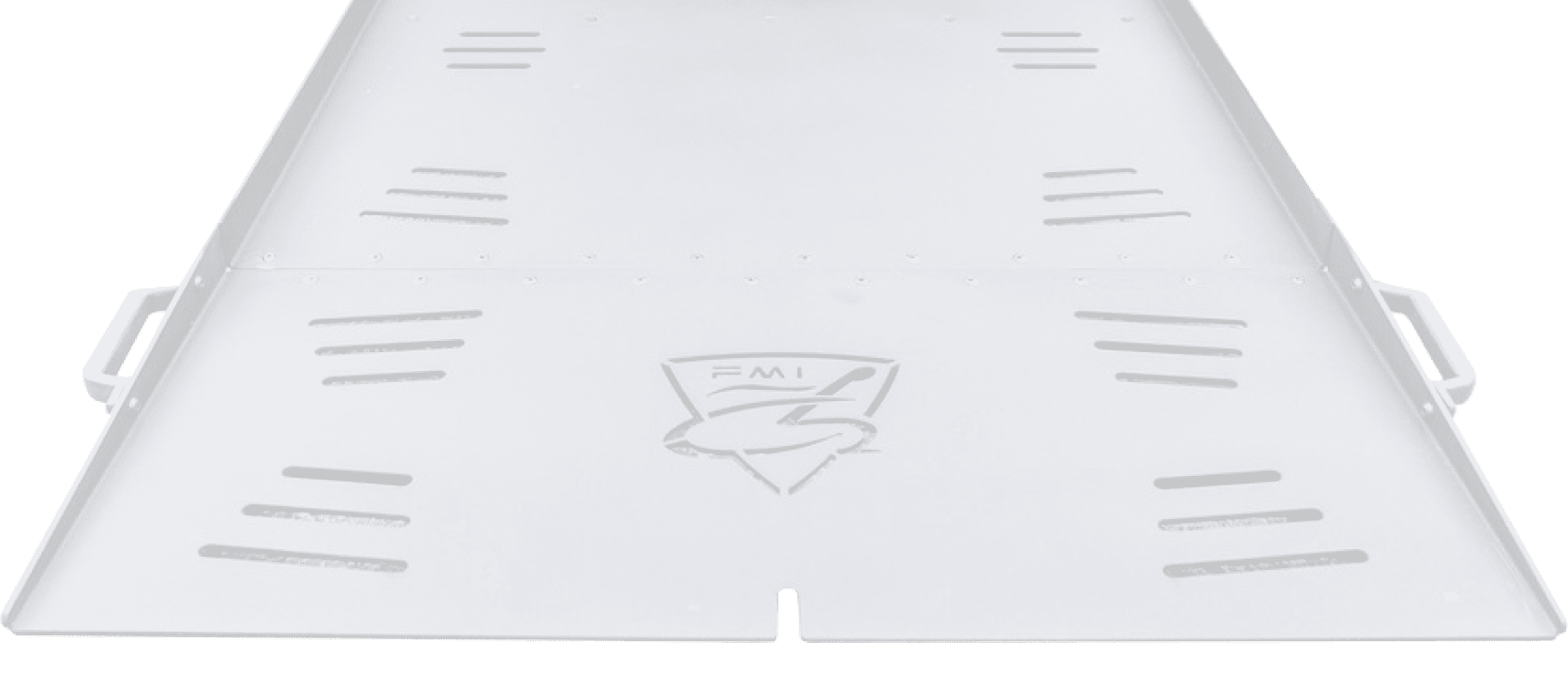 Why Freedom Motors?
The only NEMT manufacturer building rear entry handicap vehicles for you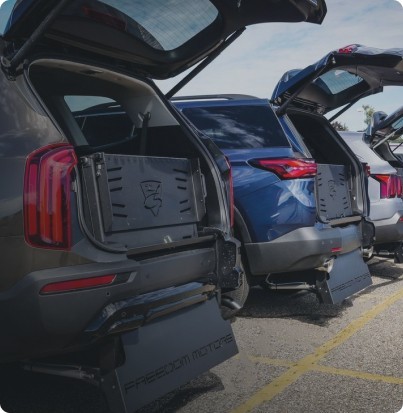 Cost Savings
Reduce worker's compensation claims. Lower cost than ambulance. Reduced maintenance. Turn payables into receivables.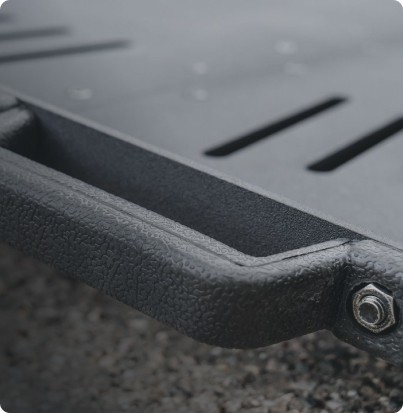 Safety & Compliance
ADA compliant conversion and exceeding all federal regulations. 5 emergency exit points and passed crash test.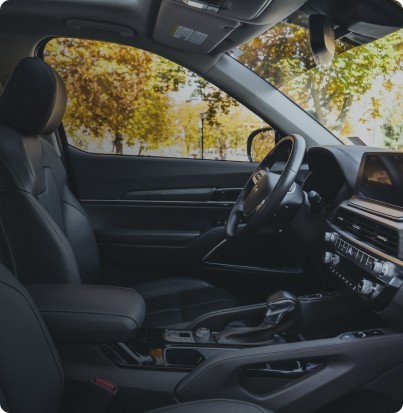 Freedom Motors Advantage
Industry exclusive superwide rear ramps. Extra sturdy construction, structural grade aluminum and customizable.
Enhanced Safety Through Precision Engineering
FMI Handicap Vehicles Build Advantages
One of the lowest TCO (total cost of ownership) of any handicap-accessible taxi or fleet vehicle.
Maximize profits per trip with less downtime
 Easiest wheelchair passenger restraint system available.
Wheelchair NEMT conversions with ramp widths varying from 34

″

 up to 48

″

 in stock and ready to roll.
All FMI commercial fleet vehicles meet or exceed ADA / FMVSS Compliant.
We offer the largest and most reliable collection
of wheelchair and handicap accessible vehicles
Paratransit Vehicles | Commercial NEMT Vans For Sale
The Country's Top Manufacturer of Paratransit, NEMT, and ADA-Compliant Vehicles
Customized Non-Emergency Medical Transport Conversions Including Wheelchair Accessible, Stretcher Securements, and Superwide Rear Ramps
Featuring:
Toyota Sienna Hybrid NEMT/Paratransit Van Plus Toyota Sienna, Chrysler Pacifica, and Chrysler Voyager
Designed specifically for the NEMT and Paratransit Industry
The Widest Accessible Ramps In The Commercial Market
Stretcher Securement Systems
Freedom Motors USA brings you the most versatile and cost-efficient transit vehicle on the market. Most of our non-emergency transport vehicles (NEMT) are fully crash tested and ADA compliant. Its unique design allows the transported patient to remain fully horizontal and safely restrained.
Offering the industry's widest rear-entry conversions allows your business to accommodate all consumers, no matter the size of the chair, providing your business with a competitive advantage.
Huge Interior, Superwide Ramp, and Versatile Securements Brings Flexibility To Your Fleet.
Freedom Motors has a selection of paratransit vehicles for sale and stretcher vans for sale with wheelchair accessibility making transporting patients easy. They're the perfect choice for anyone in need of a NEMT vehicle because of their low cost, ease of use, and versatility.
A huge interior, Superwide ramp and several seating options allowing for various configurations of ambulatory and wheelchair passengers make these stretcher vans highly customizable for riders. Several features can be configured in a paratransit van to suit your needs.
Cost-Effective, Reliable Manual Rear Ramps Made Of Structural-Grade Aluminum.
Freedom Motors is proud to offer the widest ramps in the industry, including our Superwide 48" wide Toyota Sienna rear ramp and 38″ wide Chrysler Pacifica rear ramp. Wide ramps are a great fit for a paratransit van or NEMT vehicle as they allow for various wheelchair sizes and easily accommodate stretchers and gurneys for travel.
The manual ramp is easy to operate and works reliably in any weather conditions. The spring-assisted system can easily be operated with one hand and without any assistance. Due to its simplicity, the ramp requires much less upkeep and maintenance than a lift system or other accessibility options.
Built To Withstand The Rigors Of Daily Commercial Use. Crash-Tested and ADA Compliant.
Durability is important for NEMT vans that must withstand stretchers, wheelchairs and other heavy equipment entering and exiting the vehicle frequently. Freedom Motors takes pride in the longevity of our vehicles when compared to other NEMT vehicles for sale.
Our vans use commercial-grade vinyl flooring that can withstand even the roughest weather conditions. In addition, our ramps are powder-coated to protect against rust and provide for easy clean-up in any environment.
Every Freedom Motors paratransit van meets and exceeds federally required ADA compliance standards set for eligible NEMT and paratransit vehicles. In the case of a collision, the reinforced tubular floor's reverse roll cage design provides extra security for the vehicle and passengers.
Versatile Stretcher Securement System
Every non-emergency stretcher van for sale can be equipped with an antler and rail securement system that makes loading and unloading easy. Simply secure the front wheels of the stretcher in the antler and lock the stretcher in place with the rail. If you need to transport one or two wheelchair passengers instead of a stretcher, simply remove the antler and rail from the floor mounts and use the provided restraints to secure the wheelchairs.
In addition to being able to transport up to two wheelchairs or one stretcher, available seating options allow for up to five ambulatory passengers. Many seating arrangements, like the folding third-row bench, can be quickly folded up or down to accommodate passengers on the fly during the ride.
Most Popular NEMT Vehicles
Toyota Sienna Hybrid Wheelchair Van – New in 2021, the fully updated Sienna minivan arrives with a Hybrid engine system that provides up to 36 mpg. The popular Superwide 40″ rear ramp – crafted with high-strength, structural grade aluminum – is built to last tough, everyday use.
Toyota Sienna with its Superwide 48″ rear-entry ramp, the industry's widest
Chrysler Pacifica and Chrysler Voyager with 38″ wide rear-entry ramp
Each models' conversion includes:
Seats one or two chairs or up to five ambulatory passengers per trip.
Widest ramps in the industry, perfect for bariatric patients, power chairs and larger wheelchairs.
Manual, spring-assisted ramp lifts and lowers effortlessly with no outside help.
Reinforced tubular lowered floor (aka reverse roll cage design) adds an additional layer of security.
Contact Us
"*" indicates required fields