8 Wheelchair Vehicles You Won't Find at LA Abilities Expo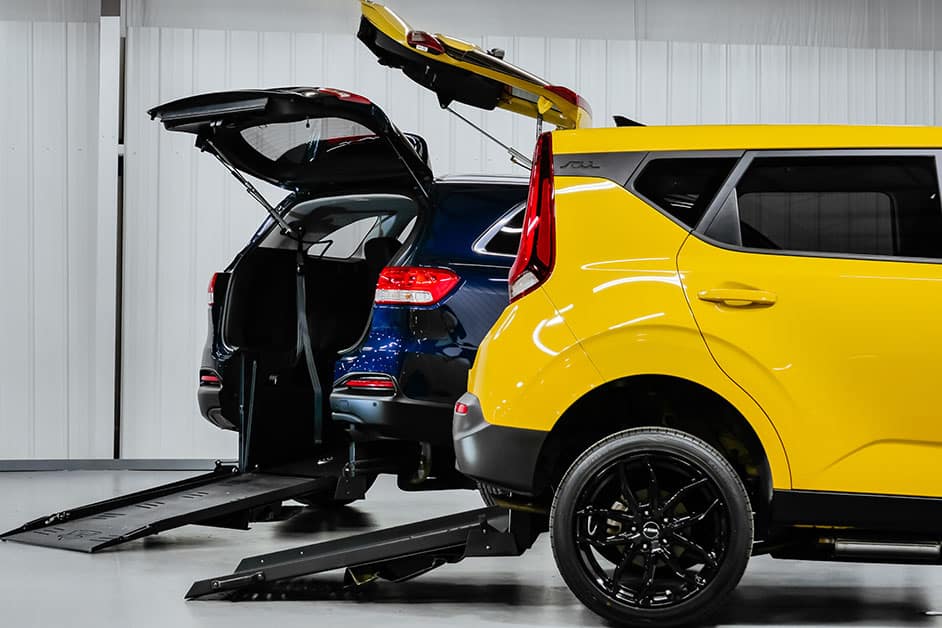 The Los Angeles Abilities Expo is an annual event that showcases the newest developments and products aimed at making the world more accessible. Freedom Motors USA will not be able to attend the 2022 conference, but that doesn't mean you can't take a look at the cutting-edge developments that are being brought to the mobility vehicle industry. If you're looking for new developments in the industry or just need a refresher on what's available right now, here's a look at everything Freedom Motors has to offer.
Wheelchair Accessible Full-Size SUVs

Hyundai Palisade
The Freedom Motors Hyundai Palisade offers an upscale SUV experience with the accessibility you need. The 33" wide ramp and spacious interior make boarding comfortable and easy for wheelchair passengers, all while offering a sporty and stylish look.
Kia Telluride
The Kia Telluride offers a premium full-size SUV at an affordable price. Freedom Motors has made Kia's new flagship SUV wheelchair accessible with a 32.5" wide ramp. With many features designed for comfort and convenience, the Kia Telluride is sure to impress.
Buick Enclave
The Freedom Motors Buick Enclave offers an accessible full-size SUV while retaining all the class of the original. The sculpted exterior, signature grille, and leather upholstery will turn heads, while a 35" wide ramp makes boarding and exiting the vehicle easy.
Chevrolet Traverse
For the classic American styling and ruggedness of a Chevrolet SUV, look no further than the Freedom Motors Traverse. With both rear-entry and side-entry options available, the Traverse is highly customizable to fit your needs. A power transfer seat makes it easy for wheelchair passengers to sit in the front row, either as a driver or passenger.
Wheelchair Crossovers and Mid-size SUVs
Kia Soul
The Freedom Motors Kia Soul offers a big wheelchair accessible vehicle experience in a small package. Its compact size makes it great for independent drivers in crowded urban areas, and the available power transfer seat makes it easy for wheelchair users to get back behind the wheel.

Kia Sorento
The Kia Sorento from Freedom Motors provides the power and drive train of an SUV in the smaller, more compact body style of a crossover. It's the perfect option for those who don't want a van while still providing a spacious interior and 30.5" wide ramp for easy accessibility.
Handicap Accessible Vans
Toyota Sienna Hybrid
The Toyota Sienna Hybrid is the most fuel-efficient wheelchair accessible van on the market, providing up to 36 MPG. The Sienna's hybrid engine stores electric power as you drive, meaning you never have to worry about plugging in or charging your car. The Freedom Motors Superwide 40" rear-entry conversion provides the widest ramp in the industry while also modifying the vehicle as little as possible, meaning the hybrid drivetrain is completely intact to provide a reliable ride. The Freedom Motors conversion is the only rear-entry Toyota Sienna Hybrid on the market, allowing you to #ParkAnywhere even when disability designated spaces aren't available.
About Freedom Motors USA Wheelchair Accessible Vehicles
Why buy your wheelchair accessible vehicle from Freedom Motors USA? It's simple. Freedom Motors is family-owned and has been creating accessible vehicle conversions since 1987, making us one of the first companies in the industry. We have experience getting our customers what they need.
Don't know where to start?

Our team of Mobility Specialists will work with you to help find the vehicle that best suits your needs.

Shop from Home –

Freedom Motors will come to you anywhere in the country

to provide a demonstration

of any of our wheelchair conversions.

Exclusive Stock –

Shop our expansive list of

rear-entry accessible SUVs

that you won't find anywhere else in the mobility industry, including the Buick Enclave, Chevrolet Traverse, Kia Sorento, Kia Soul, Kia Telluride and Honda HR-V.

Hybrid Vehicles –

Check out the industry's

first 2021 Toyota Sienna Hybrid

wheelchair-accessible conversion, with a no-charge hybrid drivetrain making it the most efficient wheelchair van on the market.

Premium Features –

Freedom Motors conversions offer top-of-the-line features, like the automatic rear-entry ramp or our full and half-cut options that allow for more passenger seating options.

Superwide Ramps –

Freedom Motors offers the widest ramps in the industry that you won't find anywhere else, including the

Superwide 40" Dodge Grand Caravan

and the

Superwide 48" Toyota Sienna

.

Dedicated to Keeping You Moving – Contact us today and we'll work with you to find the right vehicle for you.