5 Vehicles at New York Abilities Expo You Can't Miss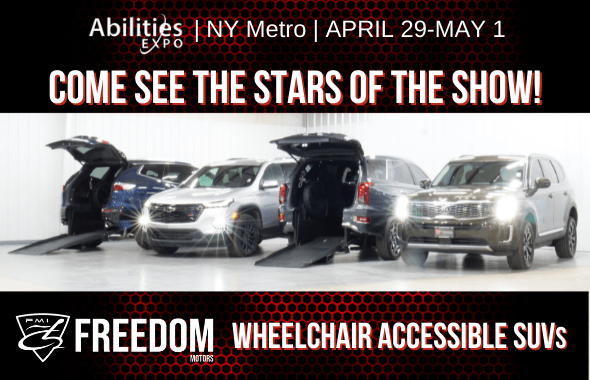 Every year the New York Abilities Expo showcases the latest innovative products and services designed to make life more accessible. The 2022 show is no different, which is why Freedom Motors USA will be attending and bringing several vehicles to provide demonstrations.
If you're interested in seeing the latest developments in wheelchair accessible vehicles, drop by the New Jersey Convention and Exposition Center, booth 537, from April 29 to May 1. The convention center is located at 97 Sunfield Ave, Edison, NJ 08837. Visit the Abilities Expo site for more information and a complete schedule of activities.
Here's a quick look at some of what you can expect to see.
Handicap Accessible Vehicles at NY Abilities Expo
Rear-Entry Wheelchair Accessible Buick Enclave
With a sculpted exterior, leather upholstery and features like its signature grille, the Freedom wheelchair accessible Buick Enclave is sure to turn heads. The 35" rear-entry ramp is available in automatic or manual configurations and makes boarding passengers easy.
---
Accessible Chevrolet Traverse With Power Transfer Seat
The wheelchair accessible Traverse from Freedom provides the accessibility you need with the rugged and classic American styling you'd expect from Chevrolet. With an automatic ramp and power transfer seat, it's a great option for those who want a full-size SUV they can drive themselves.
---
Rear-Entry Wheelchair Accessible Hyundai Palisade
The Hyundai Palisade conversion from Freedom is the ultimate upscale accessible SUV experience. The 33" ramp and spacious interior makes boarding easy, all in a sporty and stylish package with lots of comfort and convenience features.
---
Rear-Entry Wheelchair Accessible Kia Telluride
Kia's flagship SUV, made wheelchair accessible by Freedom. A premium full-size SUV with a 32.5″ ramp, bold exterior styling, and plenty of comfort features, the Kia Telluride is sure to impress.
---
Rear-Entry Toyota Sienna Hybrid
The accessible Toyota Sienna Hybrid from Freedom is the latest in handicap van innovation. Getting up to 35 mpg with a Superwide 40" ramp, the Sienna Hybrid is one of the most efficient wheelchair vans on the market. Its no-charge hybrid system means its batteries charge while you're on the road and you'll never need to plug it in.
---
About Freedom Motors USA Wheelchair Accessible Vehicles
Why buy your wheelchair accessible vehicle from Freedom Motors USA? It's simple. Freedom Motors is family-owned and has been creating accessible vehicle conversions since 1987, making us one of the first companies in the industry. We have experience getting our customers what they need.
Don't know where to start?

Our team of Mobility Specialists will work with you to help find the vehicle that best suits your needs.

Shop from Home –

Freedom Motors will come to you anywhere in the country

to provide a demonstration

of any of our wheelchair conversions.

Exclusive Stock –

Shop our expansive list of

rear-entry accessible SUVs

that you won't find anywhere else in the mobility industry, including the Buick Enclave, Chevrolet Traverse, Kia Sorento, Kia Soul, Kia Telluride and Honda HR-V.

Hybrid Vehicles –

Check out the industry's

first 2021 Toyota Sienna Hybrid

wheelchair-accessible conversion, with a no-charge hybrid drivetrain making it the most efficient wheelchair van on the market.

Premium Features –

Freedom Motors conversions offer top-of-the-line features, like the automatic rear-entry ramp or our full and half-cut options that allow for more passenger seating options.

Superwide Ramps –

Freedom Motors offers the widest ramps in the industry that you won't find anywhere else, including the

Superwide 40" Dodge Grand Caravan

and the

Superwide 48" Toyota Sienna

.

Dedicated to Keeping You Moving –

Contact us today

and we'll work with you to find the right vehicle for you.