4 Wheelchair Accessible Vehicle Trends You Should Be Excited About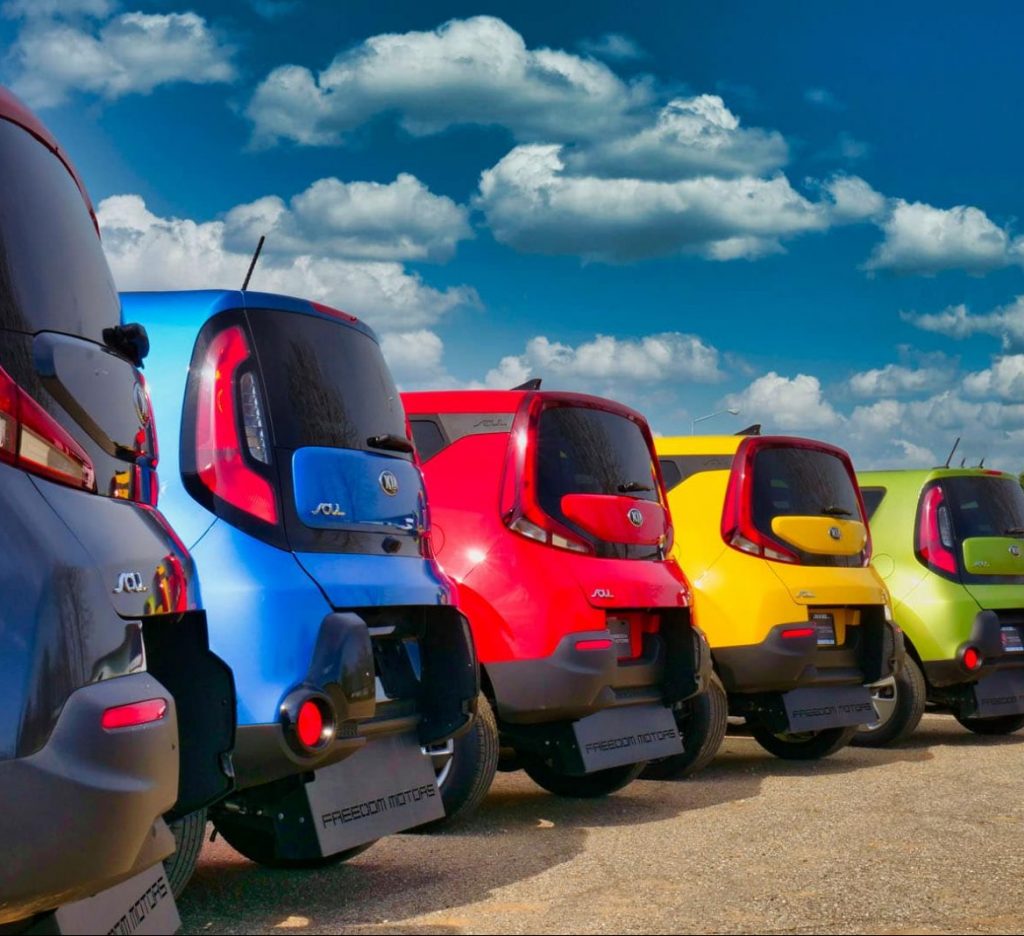 Just like the automotive industry as a whole, the accessible vehicle market tends to follow certain trends that come and go over the years. Of course, the mobility industry often follows current automotive trends because it affects which vehicles are available to be converted for wheelchair accessibility.
We've seen lots of exciting things so far this year in regards to what's next for accessible vehicles. With some big change-ups including new converted vehicles, retired favorites and new technology, there's a lot to look forward to. Here's four trends we noticed at Freedom Motors USA that are particularly exciting.
Wheelchair Accessible SUVs are the New Van
Just as minivans replaced the panel vans before them, SUVs are replacing the minivan. Honestly, we're glad to see minivans go. They've served us well over the years, but it's time for a change. Their spacious interiors are great for accessible conversions, but wheelchair accessible SUVs have finally caught up with Handicap Vehicles.
SUVs are the logical evolution of the minivan. They keep the same spacious interior for fitting lots of passengers or cargo comfortably while dropping the poor handling and boxy look we've come to expect from minivans.
All of this means that SUVs are the logical choice over minivans when it comes to wheelchair conversions. Beside their much slicker look, better gas mileage as well as better handling in everyday driving and rough weather conditions offer practical reasons to leave the minivan behind.
Read More About Wheelchair Accessible SUVs:

3 Wheelchair SUVs You Never Expected

4 Kia Telluride Features You Didn't Know About

Compact Wheelchair Accessible Vehicles Save on Gas
Compact accessible SUVs are becoming more and more readily available. Years ago, the Honda Element came onto the market and offered a great choice for a compact accessible vehicle. Since it's discontinuation, there has been a Honda Element-shaped hole in our hearts.
Until now, of course, because that space is filled by the Kia Soul and Honda HR-V. Although they can't be converted for side-entry ramps like the Honda Element could, they work great as rear-entry vehicles. Their small profile, rear-entry ramp and great gas mileage make them perfect for city driving.
See Also:

Wider Ramps Are Becoming The New Standard
When it comes to wheelchair ramps, it's almost always true that bigger is better. Narrow wheelchair ramps leave less room for error when loading or unloading wheelchair passengers, which can lead to frustration.
Thankfully, wider ramps are becoming more common and easy to come by. Freedom Motors offers several wide ramps, like the 40" Superwide Dodge Grand Caravan, 48" Superwide Toyota Sienna and the 40" Superwide Toyota Sienna Hybrid.

Hybrid Wheelchair Accessible Vans Have Arrived
In 2021, hybrid vehicles have finally come to the accessible vehicle market in a big way. The 2021 Toyota Sienna has gone hybrid only, making it a great candidate for a rear-entry wheelchair accessible vehicle.
That's right, wheelchair users and caregivers finally have an eco-friendly option when it comes to accessible vans. It's been a long time coming, and the Toyota Sienna Hybrid is a great option. With a combined average of 36 miles per gallon, it's the most efficient wheelchair accessible vehicle on the market. Best of all, there's no need to install an expensive electric vehicle charger because the hybrid system charges its batteries while you drive.
About Freedom Motors USA Wheelchair Accessible Vehicles
Why buy your wheelchair accessible vehicle from Freedom Motors USA? It's simple. Freedom Motors is family-owned and has been creating accessible vehicle conversions since 1987, making us one of the first companies in the industry. We have experience getting our customers what they need.
Don't know where to start?

Our team of Mobility Specialists will work with you to help find the vehicle that best suits your needs.

Shop from Home –

Freedom Motors will come to you anywhere in the country

to provide a demonstration

of any of our wheelchair conversions.

Exclusive Stock –

Shop our expansive list of

Wheelchair Accessible SUVs

that you won't find anywhere else in the mobility industry, including the Buick Enclave, Chevrolet Traverse, Kia Sorento, Kia Soul, Kia Telluride and Honda HR-V.

Hybrid Vehicles –

Check out the industry's

first 2021 Toyota Sienna Hybrid

wheelchair-accessible conversion, with a no-charge hybrid drivetrain making it the most efficient wheelchair van on the market.

Premium Features –

Freedom Motors conversions offer top-of-the-line features, like the automatic rear-entry ramp or our full and half-cut options that allow for more passenger seating options.

Superwide Ramps – Freedom Motors offers some of the widest ramps in the industry that you won't find anywhere else, including the Superwide 40" Dodge Grand Caravan and the Superwide 48" Toyota Sienna.
Dedicated to Keeping You Moving – Contact us today and we'll work with you to find the right vehicle for you.