4 Wheelchair Accessible Kia Telluride Features You Didn't Know About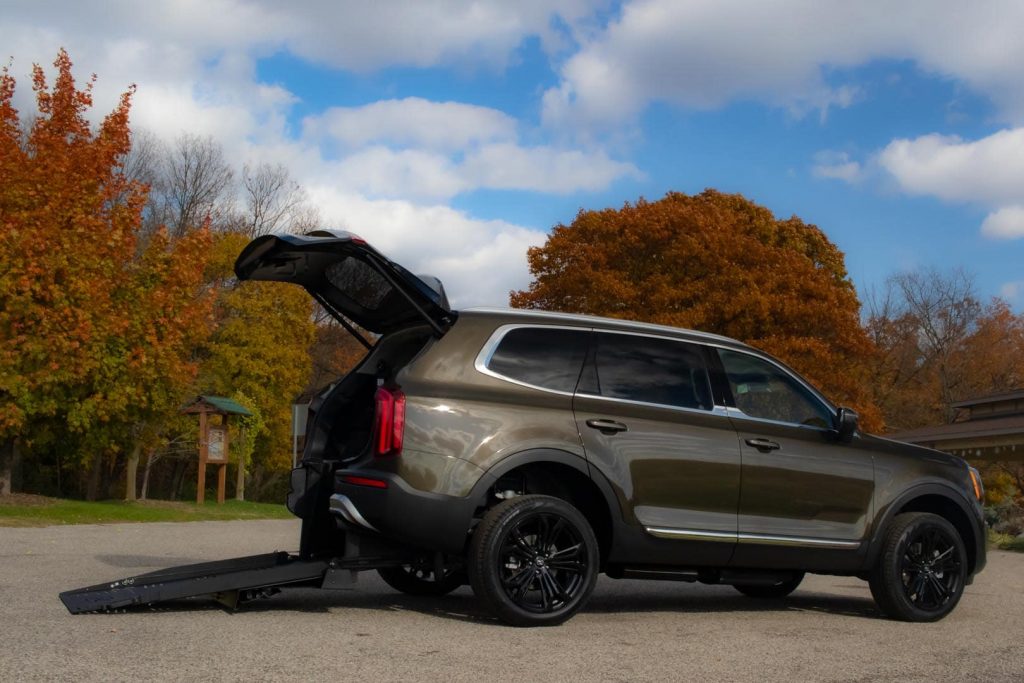 The Kia Telluride is an SUV that comes with a laundry list of standard features. With safety and convenience features like rear-cross traffic alert, parking sensors and smart cruise control coming standard, the Telluride is certainly one of the more premium SUVs on the market. It's part of what makes the Kia Telluride a great choice for a wheelchair-accessible SUV conversion.
With some of the upgraded trim levels coming with even more features and an expanded 10.25" touchscreen display, it can be easy to lose track of what exactly your vehicle can do. Here are four features that you may not know about on your wheelchair accessible Kia Telluride from Freedom Motors USA.
Doppler Weather Radar
One of the features that is easy to miss but can be really convenient once drivers know about it is the Telluride's Doppler weather radar. Scrolling through the Telluride's extensive infotainment system will allow you to access this feature.
It functions exactly as you think it would. Opening the feature turns your Telluride's touchscreen display into a Doppler weather map of the surrounding geographic area. Whether you're headed on a trip to the grocery store or a cross-country road trip, it's nice to be able to plan for what weather is headed your way. This is especially true when bad weather can make getting a wheelchair back to your vehicle difficult or damage your powerchair, turning what would be a short outing into an all day affair.
Quiet Mode & Driver Talk
The Quiet Mode and Driver Talk features are easy to miss simply because most drivers won't know to look for them. Although there are some other SUVs with features similar to these two, they are both relatively new features that are great for parents.
They both exist to serve the same purpose, but in different ways. They help facilitate conversation between the driver and copilot in the front seat and passengers in the back. 
When Driver Talk is activated, it mutes any music playing and activates a microphone to broadcast the driver's voice in the back of the vehicle. It's great for talking to distracted kids who might be riding in the backseat, but it's also just a nice way to bridge the gap between the front seat and back seat.
Quiet Mode functions in a similar way. When activated, it lowers the music volume in the car and moves all the sound to the front speakers. This is a great feature for road trips, when the driver might not want to drive in total silence but the back seat passengers may want to take a nap.
Blind Spot Monitoring
Another feature that will prove handy to have in everyday driving situations is the Blind Spot Monitor. Whenever the driver of the Telluride uses a turn signal, a feed from the side-mirror camera will display the blind spot on that side of the car on the dashboard.
This is an awesome feature that makes changing lanes a breeze, in addition to other features like the Telluride's rear-cross traffic alert. Additionally, the side-mirror cameras work even when driving at slow speeds, making it easier to back out of tight spaces (or around junk in the garage).
Ambient Lighting
Admittedly, this feature might not be as handy as some of the other entries on this list. However, that doesn't make it any less cool to know about. The Kia Telluride's cabin is fitted with LED mood lighting that can be customized through the touchscreen display. 
Drivers can customize the mood lighting by changing brightness and color, allowing complete control of the interior cabin's atmosphere. A large variety of colors are available to choose from, as well as options for custom colors.
Although this feature may not seem to have many practical uses, it can certainly be beneficial to wheelchair users and caregivers. Handling wheelchair safety constraints and power chair controls at night or in a dark vehicle cabin can be frustrating. Ambient lighting can help alleviate the issue by providing some light that's bright enough to aid visibility but still dim enough to avoid distracting the driver.
Other Features
In addition to the features listed above, the Telluride comes equipped with many more available, including: 
Rain sensing windshield wipers

automatically activate when it starts to rain. 

Reverse tilt-down side mirrors

allow you more visibility when backing out of tight spaces.

Heads-up display

provides useful information directly in the driver's line of sight.
Wheelchair Accessible Kia Telluride with Rear Ramp
Although the Kia Telluride is a relative newcomer to the luxury SUV scene, it aims to make a big splash. It's roomy interior and full suite of premium features make it a great choice for a wheelchair accessible SUV conversion. Contact Freedom Motors today to find out more about our line of rear-entry wheelchair accessible vehicles that allow you to #ParkAnywhere.