4 Things to Consider When Buying a Handicap Wheelchair Vehicle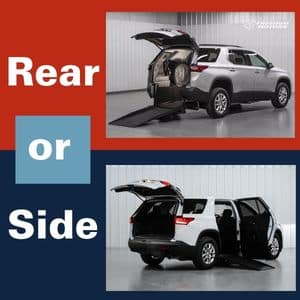 Just like any other vehicle, choosing a Handicap Vehicles For Sale to purchase is a huge decision. All the factors that go into choosing a vehicle must be taken into account, as well as the accessibility features that are available on handicap vans and SUVs.
While it's impossible to prescribe which accessible vehicle options are best for everyone's unique situation in an online guide, this breakdown can start as a jumping-off point for those at home starting to do some research.
Rear-Entry or Side-Entry Ramp Handicap Vehicles
The most important choice buyers will have to make is whether they would like a rear-entry or side-entry conversion. This choice is the most important because it will dictate which vehicles they can purchase and what other features will be available.
Rear-entry conversions have wheelchair passengers enter from the rear of the vehicle, through the hatchback door. This configuration is preferable, because it allows the ramp to be operated in any normal parking space as long as there is space behind the vehicle, not just handicap parking spaces. 
Read More:
Benefits of Owning a Rear-Entry Handicap Vehicle Conversion
Automatic Versus Manual Ramp Accessible Vehicles
Once you've decided on which conversion works best for you, you'll need to decide which style of operation you would like. Most wheelchair ramps come available in both manual or automatic configurations.
Manual ramps are operated by hand. The spring-assisted system allows users to simply grab the handle of the ramp and gently lower it to the ground.
Automatic ramps are operated by a remote key fob. Simply press and hold a button to deploy the ramp, and another to stow it. Automatic ramps also come with a handle attached that allows them to be operated manually if needed.
Although automatic ramps provide an easy-to-use experience that allows them to be easily operated with or without a caregiver, they may not be right for every situation. Manual ramps are a more budget-friendly option, and their simpler design makes them easy to maintain.
Read More:
Guide to Wheelchair Ramps in Handicap Converted Vehicles
What Kind of Accessible Vehicle is Best: Van or SUV?
Alongside what accessibility features you would like, you'll also have to decide what type of vehicle you want. Although accessible vehicles have traditionally been box vans or minivans, there are many more options available on the market today.
Although minivans are still a good option for handicap vehicle conversions, SUVs are becoming more and more popular in recent years. SUVs generally provide a better driving experience, are easier to park, and look more sporty all without sacrificing any of the features that make accessible vans great. 
Read More:
3 Reasons Wheelchair SUVs are the New Accessible Minivan
What Additional Accommodations Are Needed?
Once you've made the major decisions listed above, you've nearly narrowed down what type of vehicle is going to work best for you. One of the final steps is deciding which — if any — additional accommodations you may need in your vehicle. 
There is a wide variety of options available that can fine-tune your accessible vehicle experience to fit your needs. Options like power transfer seats and hand controls can be great for wheelchair users who want to drive independently. Extra seating options are available for those who need more passenger space, and are a great choice for rideshare or taxi drivers.
Look For Your Vehicle Right Here at Freedom Motors USA
All these options are enough to make anyone's head spin. Luckily, you don't have to figure it all out yourself.
Freedom Motors USA has a dedicated team of Mobility Specialists on call and ready to assist. They're always available to answer your questions and find the vehicle that's right for you. Call us today and get in touch with a member of our team.
About Freedom Motors USA Wheelchair Accessible Vehicles
Why buy your wheelchair accessible vehicle from Freedom Motors USA? It's simple. Freedom Motors is family-owned and has been creating accessible vehicle conversions since 1987, making us one of the first companies in the industry. We have experience getting our customers what they need.
Don't know where to start?

Our team of Mobility Specialists will work with you to help find the vehicle that best suits your needs.

Shop from Home –

Freedom Motors will come to you anywhere in the country

to provide a demonstration

of any of our wheelchair conversions.

Exclusive Stock –

Shop our expansive list of

Wheelchair Accessible SUVs

that you won't find anywhere else in the mobility industry, including the Buick Enclave, Chevrolet Traverse, Kia Sorento, Kia Soul, Kia Telluride and Honda HR-V.

Hybrid Vehicles –

Check out the industry's

Toyota Sienna Hybrid Wheelchair Van

wheelchair-accessible conversion, with a no-charge hybrid drivetrain making it the most efficient wheelchair van on the market.

Premium Features –

Freedom Motors conversions offer top-of-the-line features, like the automatic rear-entry ramp or our full and half-cut options that allow for more passenger seating options.

Superwide Ramps –

Freedom Motors offers the widest ramps in the industry that you won't find anywhere else, including the

Superwide 40" Dodge Grand Caravan

and the

Superwide 48" Toyota Sienna

.

Dedicated to Keeping You Moving –

Contact us today

and we'll work with you to find the right vehicle for you.