4 Buick Enclave Features You'll Love to Have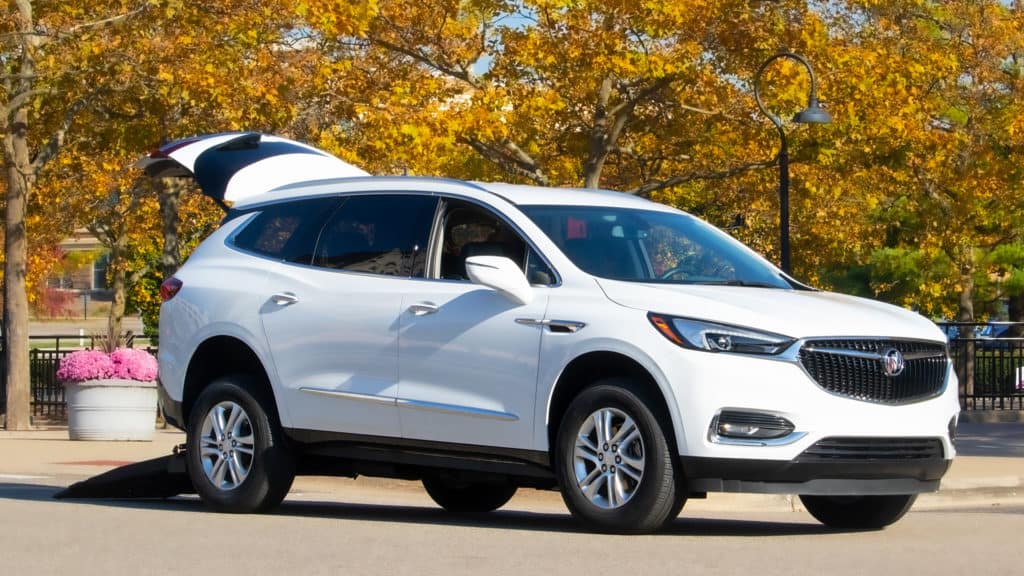 Even at first glance, the Buick Enclave sets itself apart from its competition. Its sculpted exterior with dark winged headlamps and signature glossy black grille gives it an air of class and elegance that is hard to find in other SUVs.
The Enclave's sense of style doesn't stop at the exterior. Inside the vehicle, passengers will be greeted by warm wood tones, chrome accents and leather upholstery. Beyond just looks, the Buick Enclave brings with it a considerable amount of convenience and safety features.
Between the Enclave's great looks and practical functionality, there's no question that it's a great choice for a wheelchair accessible SUV conversion. Here's a closer look at some of the features available on the Buick Enclave that make everyday driving more enjoyable.
Lane Keep Assist, Emergency Braking, Pedestrian Braking
While this entry on the list is technically more than one feature, they all serve the same purpose: keeping you safe on the road. With lane keep assist, the vehicle will provide a notification to the driver when it suspects you may be accidentally drifting out of your lane. It can even take over and gently turn your steering wheel to keep you out of harm's way.
Forward collision detection adds an additional layer of safety to vehicle occupants. Sensors in the front of the vehicle can detect when a collision with another vehicle or pedestrian and warn the driver. The Enclave even has an automatic emergency braking system that will activate and attempt to stop the vehicle automatically or with assistance from the driver when a collision is about to occur.
Rear-cross traffic alert and high definition surround vision
Parking a vehicle with a wheelchair ramp can be a challenge. Although it's made easier by a Freedom Motors USA rear-entry conversion, it can still be tricky in busy or crowded areas.
While the rear-entry allows you to park anywhere you'd like and not just in disability designated parking spaces, drivers still have to allow space for the ramp to deploy behind the vehicle. In a busy parking lot, it can be difficult to see traffic behind the vehicle. The Enclave's rear-cross traffic alert helps remedy the issue by alerting drivers when another vehicle is about to cross behind the Enclave.
In addition, the Enclave can also come equipped with high definition surround vision. This feature uses cameras mounted on the outside of the vehicle to provide drivers with a real-time bird's eye view of the vehicle when backing up.
While this feature is useful when trying to squeeze into a tight space or back out of a cluttered garage, it can also be used to see how much space there is to deploy a ramp behind the wheelchair accessible vehicle. This can be especially helpful in some cases where the ramp can be deployed directly onto a sidewalk, allowing passengers to park where it's convenient and not in a handicap designated parking space.
Onboard 4G LTE Hotspot WiFi and Infotainment System
The Buick Enclave's impressive suite of connectivity features make it easier than ever to integrate your smart devices. The Enclave's available 4G LTE WiFi Hotspot allows for up to seven devices to be connected simultaneously, meaning you'll never be without music, movies, games or social media access on a fast and reliable internet connection.
In addition, the Enclave's robust infotainment system makes it even easier to use access media and navigation features wherever you go. Apple CarPlay and Android Auto make connecting your phone a breeze, with features for GPS navigation, Spotify connectivity, hands-free calls, messages and more.
Onboard Navigation System
Even without smartphone integration, the Buick Enclave offers onboard navigation features that let you go where you want. Real time maps, turn-by-turn directions, speed limit information and more allow you to stay informed while you're on the road.
With the rear-entry conversion from Freedom Motors, it's easier than ever to go anywhere you'd like. Not having to worry about where to park a side-entry vehicle makes spontaneous trips more possible than ever. Simply pick a destination and go!
Freedom Motors USA – Dedicated to Keeping You Moving
The rear-entry Buick Enclave from Freedom Motors is a great choice when it comes to mobility options or safety and convenience features. It's roomy interior and full suite of premium features make it a great choice for a wheelchair accessible SUV conversion.
Contact Freedom Motors today to find out more about our line of rear-entry wheelchair accessible vehicles that allow you to #ParkAnywhere.