3 Reasons Why the FMI Traverse Beats the Competition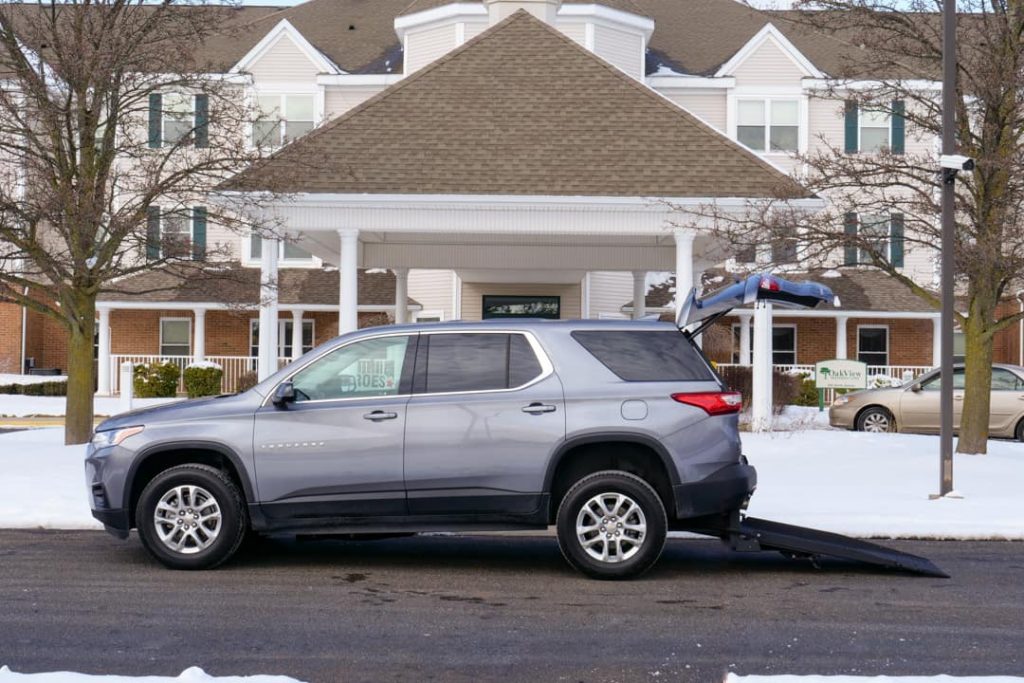 Those who are looking for a new accessible vehicle have probably seen the new side-entry Chevrolet Traverse coming to the market soon from BraunAbility. Although it's a ways off from being available for retail sale and we don't know when it will be ready to buy, it's a good time to break-down the differences between the Freedom Motors USA rear-entryChevrolet Wheelchair SUV and the side-entry Traverse coming from BraunAbility.
Here are some of the factors to think about when comparing the two vehicles.
When it comes to availability, why wait?
When it comes to purchasing a car, one of the most important factors is availability. You can't buy a car before it's available on the market.
BraunAbility's Chevrolet Traverse has been undergoing design changes for over a year and won't be available for some time. Meanwhile, Freedom Motors USA engineers have already perfected our rear-entry wheelchair accessible Chevrolet Wheelchair SUV and it is ready to be sold. You can also place an order for a new vehicle to be converted, meaning you don't have to worry about not getting exactly what you want.
Side-Entry versus Rear-Entry: Which is Best?
There are some key differences between the BraunAbility and Freedom Motors Traverse conversions, the biggest being that the BraunAbility Traverse is only available as a side-entry while Freedom Motors' is only available as a rear-entry. Both offer their own advantages.
Side-entry conversions offer a more traditional accessible vehicle experience, which means you'll likely need to find a designated disability parking space to provide room for the ramp to deploy. This means you will be limited when choosing where to park, but it can be useful if you live in a densely populated urban area where parallel parking is common.
Rear-entry conversions are a more modern configuration, with wheelchair passengers entering and exiting through the back of the vehicle. Because of this, rear-entry conversions only require space behind the vehicle, allowing you to park anywhere in most parking lots. Coming through the rear-hatchback also allows more space for wheelchairs to access the vehicle.
| | | |
| --- | --- | --- |
| | Freedom Motors USA | BraunAbility |
| Door Opening Width | 40″ | 30.5″ |
| Door Opening Height | 53″ | 54.5″ |
| Ramp Width | 35″ | 30.25″ |
| Ramp Length | 60″ | 52″ |
| Ground Clearance | 7.5″ | 6″ |
The Freedom Motors rear-entry Traverse offers nearly 10" inches of additional width at the door opening and nearly an additional 5" of ramp width, making even larger wheelchairs easy to move in and out of the vehicle. In addition, an additional 1.5" of ground clearance means you don't have to worry about everyday obstacles damaging your car.
Don't Pay More for Luxury
Another important factor to consider is price. Side-entry vehicles are generally more expensive than rear-entry vehicles because they can require more extensive modifications be made. Added to the fact that rear-entry conversions can be made even more cost effective by choosing a manually operated ramp, they're a great choice for an affordable wheelchair accessible vehicle.
What OEM Features are available?
Because they both use the Traverse as a base model, most of the luxury features that come with the model will be available on both conversions. Some of the available features include:
Powerful 3.6L V6 engine

Lumbar support for driver seat

Dual-zone climate control

Heated mirrors

Climate control seats

Heated steering wheel

Remote access

Parking assist
Premium upholstery, dual-zone climate control and lumbar support provide a comfortable cabin for drivers and passengers. Parking assist makes pulling into tight spaces a breeze and remote access allows you to enter with the push of a button.
The Freedom Motors USA Advantage
Freedom Motors offers the most reliable conversion on the market, with extra effort taken to make it as stable as possible. Our engineers have crafted our conversions to alter the OEM engineering and design as little as possible, allowing you to drive a vehicle that's dependable and close to the original OEM experience.
We take pride in not only offering the best products in the mobility market, but also providing the best service. We've been converting all of our vehicles using our own parts right here in Battle Creek, Michigan since we first converted the Dodge Grand Caravan in 1987. We are confident in our design and all of our vehicles come with a 36 month (three years) or 36,000 mile warranty.
We offer or will soon be offering options of automatic or manual ramps on all of our vehicles, allowing you to pick a conversion that best suits your needs. We also have many seating arrangements and options available, allowing you to customize our vehicles however you'd like. Talk to one of our Mobility Specialists today to find out how we can help you get the accessible vehicle you deserve.
About Freedom Motors USA Wheelchair Accessible Vehicles
Why buy your wheelchair accessible vehicle from Freedom Motors USA? It's simple. Freedom Motors is family-owned and has been creating accessible vehicle conversions since 1987, making us one of the first companies in the industry. We have experience getting our customers what they need.
Don't know where to start?

Our team of Mobility Specialists will work with you to help find the vehicle that best suits your needs.

Shop from Home –

Freedom Motors will come to you anywhere in the country

to provide a demonstration

of any of our wheelchair conversions.

Exclusive Stock –

Shop our expansive list of exclusive

Wheelchair Accessible SUVs

that you won't find anywhere else in the mobility industry, including the Buick Enclave, Chevrolet Traverse, Kia Sorento, Kia Soul, Kia Telluride and Honda HR-V.

Premium Features –

Freedom Motors conversions offer features you won't find anywhere else, like the exclusive automatic rear-entry ramp or our full and half-cut options that allow for more passenger seating options.
Superwide Ramps –

Freedom Motors offers some of the widest ramps in the industry that you won't find anywhere else, including the Superwide 40" Dodge Grand Caravan and the Superwide 48" Toyota Sienna.

Dedicated to Keeping You Moving –

Contact us today

and we'll work with you to find the right vehicle for you.