3 Reasons Wheelchair SUVs are the New Accessible Minivan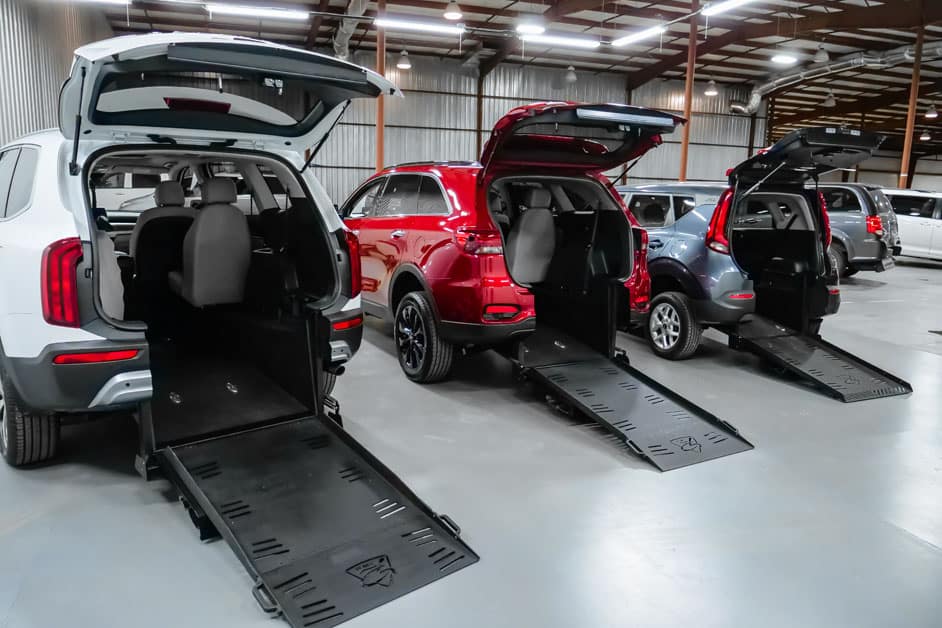 When thinking about wheelchair accessible vehicles, big box vans and minivans usually come to mind first. It makes sense — their large size makes them a good fit for an accessible vehicle, and they've been leading the market for years.
However, the market is starting to change. Minivans aren't as popular as they once were, and affordable models are getting harder to find. Manufacturers are producing fewer models and at higher trim levels, making it more expensive to purchase a minivan. Advancements in the mobility industry have made SUVs a more viable option for wheelchair conversions.
SUVs are on the rise as the new standard in wheelchair accessible vehicles. Although there are still many Handicap Vehicles For Sale on the market today, it may be time to start seriously considering purchasing a converted SUV instead. Let's take a look at a few reasons why that isn't such a bad thing. 
SUVs Offer Just as Much Space
One of the biggest concerns when it comes to vehicle wheelchair conversions is space. There needs to be ample room inside the vehicle for a wheelchair passenger to ride comfortably, as well as a wide enough ramp opening to make accessing the vehicle easy.
The Kia Telluride rear-entry conversion from Freedom Motors USA offers a 33" wide ramp, only an inch less than the Dodge Grand Caravan's 34" ramp. On the interior, wheelchair passengers in the Telluride have 55.5" of headroom, compared to the Grand Caravan's 58" of headroom.
As you can see, the difference in space offered between an SUV and minivan conversion is often negligible. While the interior remains much the same, SUVs often provide a sportier frame and more responsive engine that can make it easier to drive in crowded urban areas or through less-than-optimal weather.
SUVs Come with More Features
Blind spot detection warnings, blind spot monitoring, rear-cross traffic alert, automatic emergency braking, and automatic lane-keeping assist — these are just some of the features you'll find on the Kia Telluride you won't be able to get on a wheelchair minivan conversion. 
Other features like ambient lighting, built-in ambient nature soundtracks, and an 8" touchscreen display make sure that you're not only safe in your Telluride, but comfortable as well. 
SUVs Get More Bang for Your Buck
One of the first decisions that's made when purchasing a vehicle is how much it will cost. It's often thought that SUVs are more cost prohibitive than the "more affordable" minivan.
That may have been true at one point, however, that is simply not the case today. The unconverted, base 2021 Kia Telluride MSRP starts at $32,190 and the 2021 Chevrolet Traverse starts at $29,800, while the 2021 Toyota Sienna starts at $34,460 and the Chrysler Pacifica starts at $36,245.
When it comes to purchasing a vehicle for wheelchair conversion, why pay more for a less powerful, less fully-featured option?
Contact us today
to speak to a Mobility Specialist about which vehicle would be best for your needs. 
---
About Freedom Motors USA Wheelchair Accessible Vehicles
Why buy your wheelchair accessible vehicle from Freedom Motors USA? It's simple. Freedom Motors is family-owned and has been creating accessible vehicle conversions since 1987, making us one of the first companies in the industry. We have experience getting our customers what they need.
Don't know where to start?

Our team of Mobility Specialists will work with you to help find the vehicle that best suits your needs.

Shop from Home –

Freedom Motors will come to you anywhere in the country

to provide a demonstration

of any of our wheelchair conversions.

Exclusive Stock –

Shop our expansive list of

Wheelchair Accessible SUVs

that you won't find anywhere else in the mobility industry, including the Buick Enclave, Chevrolet Traverse, Kia Sorento, Kia Soul, Kia Telluride and Honda HR-V.

Hybrid Vehicles –

Check out the industry's first

Toyota Sienna Hybrid Wheelchair Van

wheelchair-accessible conversion, with a no-charge hybrid drivetrain making it the most efficient wheelchair van on the market.

Premium Features –

Freedom Motors conversions offer top-of-the-line features, like the automatic rear-entry ramp or our full and half-cut options that allow for more passenger seating options.

Superwide Ramps –

Freedom Motors offers the widest ramps in the industry that you won't find anywhere else, including the

Superwide 40" Dodge Grand Caravan

and the

Superwide 48" Toyota Sienna

.
Dedicated to Keeping You Moving – Contact us today and we'll work with you to find the right vehicle for you.