Learn About Common Wheelchair Van Seating Options
Removeable Front-Passenger Seat
If you want to sit up front but don't want to drive, a removeable front-passenger seat makes sense. You'll be able to slip it out to accommodate the wheelchair.
Just remember that most states have regulations covering children in wheelchairs and their position in the vehicle. In most cases, the child must weigh over fifty pounds and be capable of withstanding airbag deployment force if they're to ride next to the driver.
Swivel Seat
Sometimes the last step is the hardest step. Once you've moved from wheelchair to driver's seat, it can be aggravatingly tough to turn and face forward. Of course, you can always use a swivel seat. Made of two thin layers joined by a swivel, they essentially act as turntables.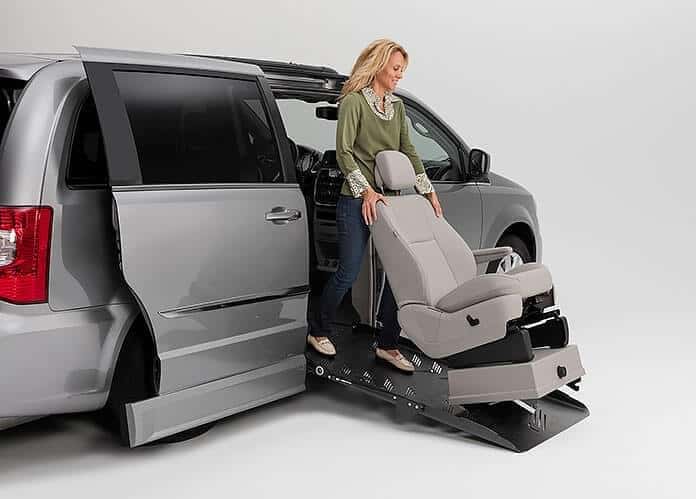 Jump Seat
There's no need to choose between additional seating, space for cargo, and room for a wheelchair. Jump seats come with seats that can be folded up or down to reveal a large, open area perfect for parking a wheelchair or other large item. They come in single and double styles.
More modern options include fold-out seats. Instead of having only the sitting section fold down and out of the way, the whole seat can be folded against the van's side.
Transfer Seat
Driving from a wheelchair isn't safe, nor is it particularly comfortable, especially during longer journeys. Luckily, transfer seats exist. They retain the vehicle's original support settings, upholstery, and seat belt, all while allowing multiple drivers for added functionality.
A 4-way seat transfers you forwards/backward and lets you swivel in/out. 6-way transfer seats add up/down movement, but they aren't seen as widely. If you're modifying a current van, think about whether you want a 4-way or 6-way transfer seat.
Freedom Motors is Your Go-To Resource for Wheelchair Van Advice
Whether you're looking for a converted minivan, seeking advice about your own conversion, or want to learn how to use wheelchair tie-downs, Freedom Motor can provide the buying tips you need.