Customer Reviews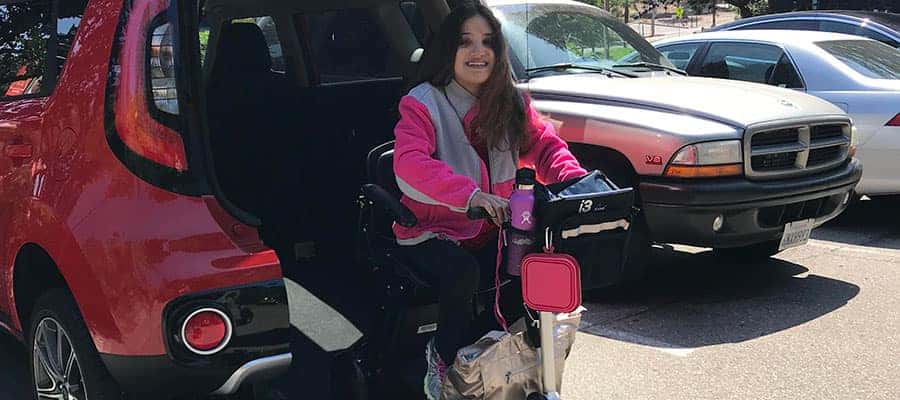 "We love our new Kia Soul conversion! It is fun to drive and very easy to use the ramp to load our daughter's scooter. She will be getting her license soon and finally be able to be independent. She will be able to go wherever she wants, whenever she wants. With the press of a button, she can open the ramp and load/unload her scooter herself. I love watching people's looks of amazement when they see the car open for her scooter. It is a fun, sporty, bright red little car, perfect for a fun-loving 20-year old!" – Effie F.
---

"My husband and I researched mobility vans all over the US. The rear entry conversions that continued to impress us were vans from Freedom Motors. This van is giving us the safest mode of travel for our family. Our daughter now sits between her sisters in the van, allowing each transport to be an enjoyable ride for the entire family. There is "small town" hospitality in your company, and we want you to know how much we appreciate that. We have spoken with various people as we have called FMI, and this hospitality seems to be a recurring theme throughout your employees." – Sheila H. from Washington
---
"My van is INCREDIBLE! I am 100% in love. It's SO fun to drive and the ramp has completely changed my life. I never thought I'd say this, but I feel like a bad ass driving around in my converted minivan! Now that he sits in his wheelchair, Cameron's posture is perfect when I take him places.
Your exemplary customer service, deep knowledge of the product and kindness toward my son's situation made it a "no brainer" that you were the person we wanted to help us through the conversion of our new van. I hope you realize what you do is not just selling van conversions. You are directly impacting families' lives – lives that are quite difficult to begin with – for the better. You're not just a salesman to me. You are a family friend." – Elizabeth S. from Illinois
---
"Thanks to Freedom Motors, I am thrilled to be able to enhance the quality of my mother's life with the Fiat 500L," exclaims Liza K. in a wonderfully written note. "We've taken my mother out almost every day during this glorious fall in NY. My experience was excellent from first online contact to delivery and follow-up."FMI does unique, outstanding work for an under-served population."
---
Our experience with Freedom Motors was "amazing from the beginning to the end," writes Joan R. from the great state of Texas. She is finding their 2011 Chrysler Town & Country is "awesome for my son…and the joy it gives me to know his ride is so much nicer than the medical transportation buses."
---
"I'm happy," writes Paul C. after delivery of his Chrysler Town and Country rear-entry Kneelvan.
---
"Love the vehicle. I have received a lot of compliments," writes Keyko G. from New Jersey. With our Toyota Sienna wheelchair van "our son is now easily transported from place to place without hassle. Before he would miss out on many outings."
---
"We are enjoying it very much. It is the second vehicle we've bought from Freedom Motors in four years," writes Mark B. after receiving his 2015 Chrysler Town & Country Kneelvan. "Chet (the Mobility Specialist) was the principle reason we returned. Our experience was excellent. We never felt pushed. We were respected and valued by all of the Freedom Motors' team."
---
"My mom has enjoyed the FREEDOM and EASE of getting out of the nursing home!" writes Judy B. from our home state of Michigan.
---
Gina C. writes, "Thank you so much for working so closely with me, for listening to my concerns, and for always answering my many questions in a calm, gentle way. Tomorrow will be one week since we've been driving the van and we have already done SO much exploring because of it. Ruby has been beyond thrilled with how easy it is for her to get her "wheels" in and out "all by myself." She and I went to the library alone on a very tight time-frame and we were both shocked with how simple our outing was! The van, you helped us get, has quite literally brought the world to our daughter. The ease of the ramp has changed my life and my stress level. When we left the library the other day, Ruby and I strolled, holding hands, along the walkway and I felt carefree for a moment. Thank you for making that possible. You have had a tremendous impact on our lives, and I am very grateful."
---
"Perfect for trips around our community," writes Daniel A. after driving around in his new 2015 Kia Soul rear-entry accessible car.
"Easy to park and easy to spot with the yellow color! We're able to go to local minor league baseball team game this week where parking was limited–we found spot for the car AND was able to use rear lift perfectly."
---
"The experience was very smooth…and has expanded our daughter's independence and that is PRICELESS," writes David D. from our great home state of Michigan after receiving his 2011 Chrysler Town & Country."The van is great and doing everything we need. He [Scott, the sale rep] "went above and beyond to make sure we were satisfied."
---
"Without this van, our lives would be very different," writes John & Nancy S. from sunny Florida."This is our third conversion van from Freedom Motors. I have been able to bring our quadriplegic son home on weekends and take him to Boy Scouts every Thursday evening."
---
Ann P writes in…"I love our Freedom Motors vehicle. Your entire staff were helpful and informative. This was certainly the most unique sales process that I have experienced and one that was greatly appreciated. The salesperson brought a van to our home and spent a number of hours with us walking us through the process of selecting and buying a van. He went above and beyond any service I've ever received. He would call from which-ever state he was driving through to keep us updated on the van we bought. My mother and a family friend drove to Freedom Motors to pick up the vehicle, and they pick up went great. The entire staff on delivery were professional, helpful, patient and kind. This is my second Kneelvan but that new found feeling of Freedom never goes away. It's amazing to ride with friends and family and be a part of the conversation!"
---
Rachel R Writes…"I just wanted to take a minute to thank you and the staff at Freedom Motors. We have had our van for about 4 months now, and we love it! The whole process was amazing. We were able to get the vehicle needed at a price we could afford. I am especially thankful to our sales rep who walked us through the process so diligently. Thank you for letting us experience Freedom again!"
---
Richard S writes…"We are enjoying our Freedom Motors vehicle very much! It is making life easier much easier on both of us. Our salesman and the entire staff at Freedom Motors were professional and courteous! The ability to take my power wheelchair has changed my life. I'm able to go places I haven't been to in years! It's now also safer since my wife doesn't have to lift and push me around in a manual chair. Thank you Freedom Motors!"
---
Kenneth and Shelly have some wonderful words for us!"We love our freedom! It's so nice to go and not worry about getting stuck because the ramp or door doesn't work! My overall experience was great. I believe in the product and will recommend Freedom Motors to everyone! It has been great to know reliable transportation is waiting and appointments can be kept!"
---
Some more kind words from Pete and Lillian K. …."This is written with great pride as a consumer of Freedom Motors. We were in need of a vehicle that would help us in just trying to live a normal life. We came across you. From our first interaction we were so surprised. Everyone we have dealt with has showed the same respect and concern for us. In today's market, that is saying a lot for a business as large as yours. We want to let you know we appreciate all of your fine staff for helping us achieve our goal!"
---
Some more wonderful words from Teresa H!"We love our new vehicle! The conversion changed our lives for the better! Our salesperson was excellent at the demo of all functions, and had me do everything just to be sure I knew how! I couldn't be more pleased with the experience. We had received 3 different quotes and Freedom Motors stood out as the best on every level!
The ability to still seat 7 in our van including the wheelchair is a dream come true. We travel weekends with 5 kids to camp, all summer long! I called our rep a week after delivery, and he was on the phone with me within seconds of leaving a message!I absolutely love your company! We know that our van conversion would not have happened without the help and advocacy of your salesperson. He really went above and beyond for our Family! Thank You,
Teresa H."
---
Edwin P writes to us with some wonderful words that we LOVE to hear!"I am very much enjoying my Freedom Motors vehicle, the experience is easy and exciting. My entire purchase was handled over the phone, and all my calls were returned promptly. The entire staff at Freedom Motors were pleasant to work with! This is my 5th purchase from Freedom Motors…1991 Chrysler1997 Chrysler2004 Chrysler2008 Chryslerand my newest 2013 Chrysler. The 1991 was in service and working amazing all the way until June of 2013!!! All of my previous vehicles are being enjoyed by friends, who love the product as well!"
---
When she was asked how she was enjoying her new FREEDOM MOTORS vehicle, here's what Norene P. had to say…"I certainly have been enjoying it! The Freedom Motors conversion is a dream compared to what I had been doing with a standard lift for the past 20+ years! This was my second experience with Freedom Motors, the first was in 2008, and that one served it's purpose well too! We couldn't be happier and are happy to come back to Freedom Motors once again for our needs."
New Inventory Used Inventory