Accessible Vehicle Innovation: a Rich History
Accessible Vehicle Innovation:
a Rich History
Freedom Motors has been converting vehicles to wheelchair accessibility for over twenty years.
After introducing the U.S.A. to the rear-entry wheelchair van configuration in 1987, Freedom Motors continued on its path of innovation and advancement by developing an assortment of incredible wheelchair accessible vans and vehicles that cater to the unique personalities of their customers.
In addition to our core wheelchair van products, which include Toyota Sienna and Dodge Grand Caravan models, the Honda Element with the Freedom Motors USA X-WAV Conversion (Xtreme Wheelchair Accessible Vehicle), the Chrysler PT Cruiser Rider/Driver/Convertible, and the accessible Scion XB, our specialty vehicle conversions have changed the face of mobility and represent the pinnacle of wheelchair accessible vehicle design and safety.
Freedom Motors has crash-tested more wheelchair-accessible vehicles than most others in the U.S. and we pride ourselves on the fact that all of our handicap and wheelchair accessible vehicles have passed on the first attempt.
With a wide variety of wheelchair van and handicap accessible vehicle models available, ranging from minivans to cars and SUVs, Freedom Motors has an option to fit every special need.
"Everybody deserves a choice," says Sieto van Dillen, President and Owner of Freedom Motors. "In the past, full-sized wheelchair vans were the only option people had. We wanted to change that. Our Research & Development Department's mission is one of constant innovation and improvement and we prefer to think of ourselves as the locomotive rather than the caboose in the world of mobility. We enjoy providing our customers with cutting edge wheelchair accessible vehicles that they can be proud of."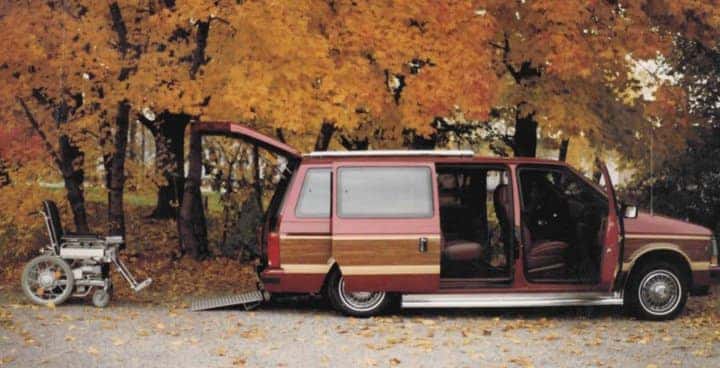 Whether you're looking for a wheelchair van or an alternative wheelchair-accessible vehicle, you've come to the right place! We're committed to giving you total freedom and independence at factory direct prices.
The Early Days…
Anthony van Dillen, the founder of Freedom Motors, brought the rear-entry wheelchair van concept over from the Netherlands in 1985. In the photo below, the first prototype of a rear-entry handicap accessible vehicle is being unloaded after a long trans-Atlantic flight!Mr. van Dillen saw the need for an extremely strong and reliable handicap accessible vehicle conversion built on a platform other than the full-size gas guzzling vans of the day. And thus the lowered-floor wheelchair-accessible minivan concept was born! While many companies have attempted to imitate our designs, Freedom Motors remains the creator and longest producer of lowered-floor minivans in the United States.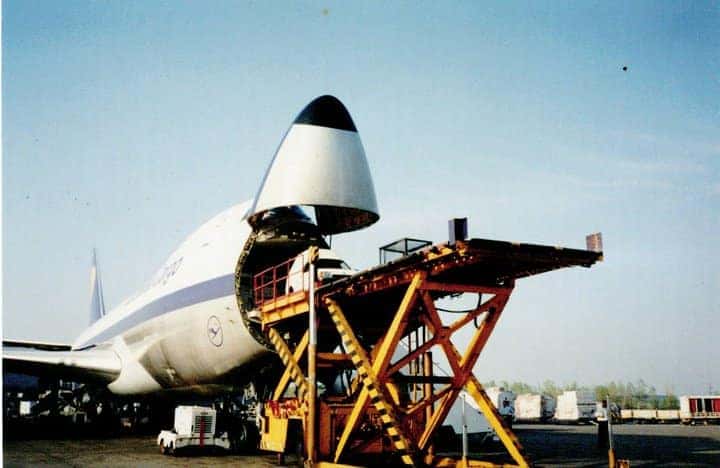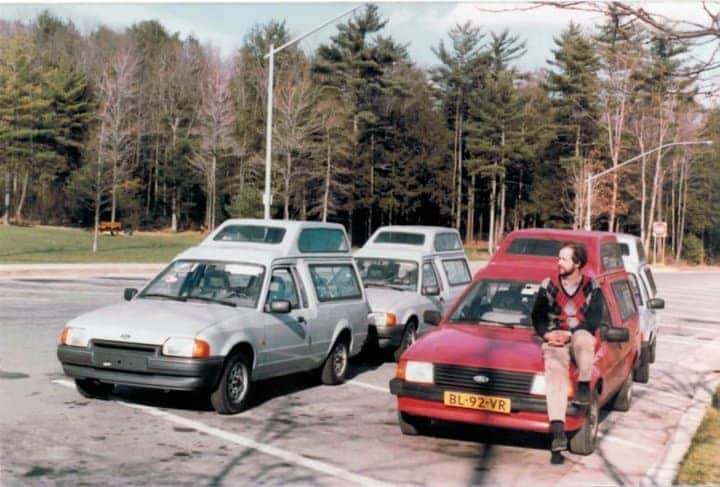 This is a great shot of Anthony van Dillen doing Research and Development in the early days. We pride ourselves on our cutting-edge innovations in accessible vehicle safety and reliability. Our longstanding tradition of continuous improvement has allowed us to create amazing accessible vehicles like the X-WAV Honda Element Conversion, the Scion xB, and the PT Cruiser and PT Cruiser Convertible. Each Freedom Motors vehicle is backed by both the most rigorous quality control standards in the industry and our 20+ years experience in developing safe, reliable accessible vehicles. You're in good hands with Freedom Motors!
Why Freedom Motors?
Many of our employees have been with us since the beginning and can be considered among the most knowledgeable handicap-accessible van and vehicle builders in the world!
Freedom Motors is a privately owned, family-focused company, and for over 20 years we've prided ourselves on building our customers many of the safest, most reliable wheelchair vans, cars for wheelchair users, and handicap accessible SUVs on the planet. Call us today at 800-625-6335 or click this link to see our exciting product line.
We would love to help you find the vehicle of your dreams. We have hundreds of options to choose from, and have options to help with any budget or situation. From Michigan to Texas, and California to New York, we are ready and waiting to help you gain mobility with one of our excellent vehicles, and they're available throughout the United States!