Committed to Wheelchair-Accessible Vehicle Safety for Over 20 Years
Committed to Wheelchair-Accessible Vehicle Safety
for Over 20 Years
With an eye on safety and reliability, our engineers have designed every one of our wheelchair-accessible van and handicap vehicle conversions using only the best parts available, including many of the same aeronautical-grade components that keep commercial airliners safely in the sky every day.
At 36,000 feet, failure is not an option — and we hold ourselves to the same standards, designing our wheelchair-accessible vehicles to keep you and your family safely on the road, day after day and year after year. All of our new and used wheelchair vans for sale include safety features designed to protect you.
We provide our customers and their families with years of safe, trouble-free operation by employing the core European design principles of simplicity, durability, and safety.
All of our wheelchair vans and handicap-accessible cars and SUVs are built proudly in the U.S.A. by American workers who strive for Freedom Motors conversions to outlast and outperform the competition, period.
The Freedom Motors Difference
At first glance, all wheelchair vans and mobility vehicles may appear to be very similar, but in a side-by-side comparison with our competitors, the differences reveal themselves.
Frames
All of the new and used wheelchair van and handicap-accessible vehicle conversions offered for sale at Freedom Motors are built upon an extremely strong tubular steel frame that is designed much like the roll cages used to protect drivers piloting high-performance race cars around a track at over 200+ mph.
Most of our competitors' accessible vehicles don't utilize a frame system — and at 70 miles per hour, all that sits between the wheelchair user and the pavement is a thin sheet of metal or fiberglass that's less than 1/16th of an inch thick.
Hydraulics
Our automatic handicap conversions and kneeling systems use the same "battle-tested," heavy-duty hydraulics as both the aviation and heavy-construction industries because they have proven to be among the safest and most reliable options when developing automated systems that have a zero tolerance for failure.
For safety reasons, our hydraulic systems also allow our wheelchair van conversions to be easily deployed manually, enabling a wheelchair user to quickly exit the vehicle and get to safety in the event of an emergency or power loss.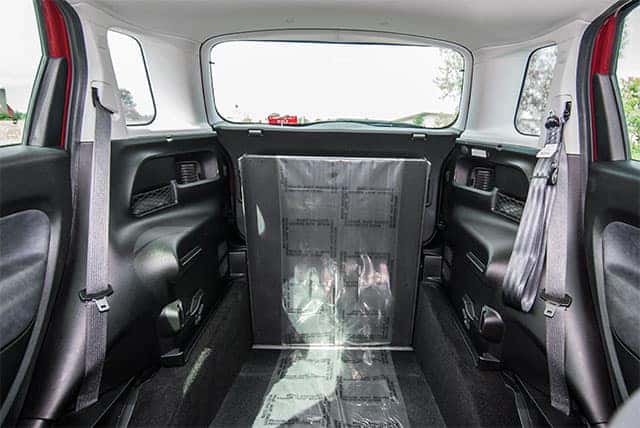 Why Our Competitors Lag Behind
In comparison, our competitors' mobility conversions tend to utilize cheap, low-torque electric motors that rely solely on plastic gearing that is prone to both breakage and failure.
Because of the electric motor's reliance on the vehicle's electrical system to operate, wheelchair users often find themselves trapped in handicap vehicles made by our competitors, unable to deploy the conversion and exit the vehicle quickly during an emergency or power loss.
Most competitors' wheelchair vans come with some type of separate crank that, in an emergency, needs to be located and used to crank down the ramp, eating up crucial time. It goes without saying that, in the event of an accident or fire, this can be catastrophic.
Where We Stand
Freedom Motors handicap vans and other mobility vehicle conversions remain the #1 choice.
Customers concerned about accessible vehicle safety and reliability and with innovations like our "reverse roll cage" design, fail-safe hydraulically assisted automated systems, and our exclusive iso-Parabolic kneeling system that eliminates wear and tear on the conversion by allowing natural travel of the rear axle when not in use, FMI has set an extremely high safety standard that other mobility converters can only aspire to reach.
In addition to our full wheelchair-accessible van line, the creation of cutting-edge handicap-accessible conversions on cars and SUVs like the Honda Element, the Scion xB, and the Chrysler PT Cruiser/ PT Cruiser Convertible have secured our place as the most innovative and progressive company in the mobility conversion industry today.
Our wheelchair-accessible vehicle conversions have proven themselves both on the road and at the crash-test facility, and we stand behind our products as being the best all-around mobility vehicles available. We think you'd agree with that, when buying a new or used wheelchair van or other handicapped accessible car or SUV, both you and your family deserve the highest safety and reliability available… You and your family simply deserve a Freedom Motors wheelchair accessible vehicle conversion.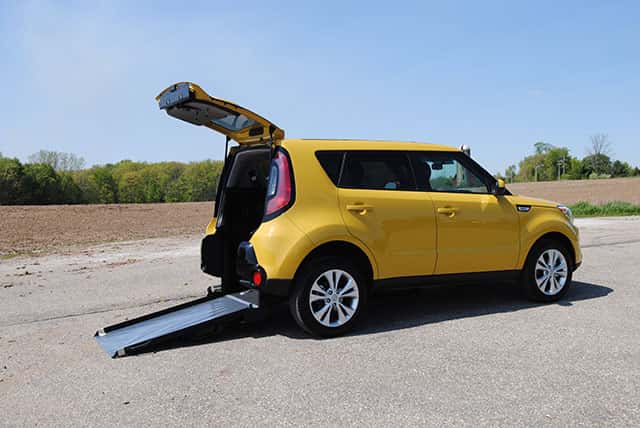 See the difference yourself in the comfort of your own driveway. Call us now at 800-625-6335, or use our online form to schedule a FREE, no-obligation, at-home product demonstration.